Frugal Ways to Enjoy Halloween
This post may contain affiliate links, which means I may earn a small commission if you click and make a purchase. You can read our full disclosure policy here.
Last Updated on May 24, 2022 by
Americans spend more on Halloween than almost any other holiday. The only holiday we spend more on is Christmas. With that said, you don't have to spend a lot of money to enjoy Halloween. Whether you host a movie marathon or be careful about where you buy candy, there are frugal ways to enjoy Halloween.
For the longest time, when we only had my oldest, we started going to a local church for Harvest fest. Children wore their costumes and kids won candy by playing games. It wasn't scary and parents could socialize in a warm environment instead of heading outdoors in the cold October weather.
Feeling the pressure to spend a ton of money during Halloween time doesn't have to be your norm. You can easily create a wonderful Halloween for your family without breaking the bank. What's the point of having a holiday to remember if it takes over your family budget for the next few months?
Stop stressing over trying to have an expensive Halloween and use these frugal tips instead!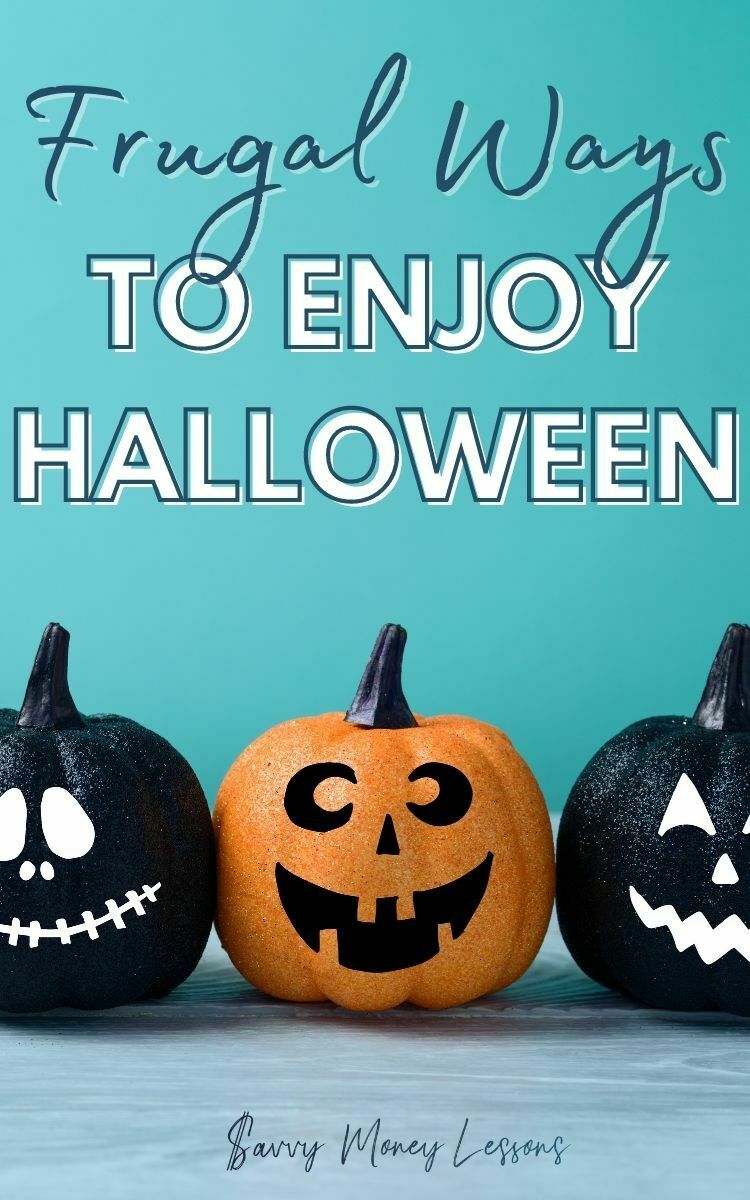 Frugal Ways to Enjoy Halloween
Holidays are a super fun time to enjoy and relax, but many people feel the pressure of overspending as well. When it comes to saving money at Halloween, you can easily use these money-saving tips.
Find out the best way to start cutting costs fast with the tips below. The best part about saving money during the holidays is that you can use these tips over and over again. Since the holidays happen every year at the same time, these tips are going to work every time you need them to.
Host a Movie Marathon
A movie marathon is an excellent way to enjoy Halloween. If you have a Netflix or Amazon Prime account, you can find a lot of movies to watch for very little money. Add some popcorn, drinks, and Halloween candy and you've got a great night ahead of you. There are Halloween movies for all ages so there's something for everyone.
If you have space outdoors for an outdoor movie, this is a fun way to set up a screen and enjoy. The kids will love this option and having it in your own yard is so much fun to do.
Check Out Local Events
Another great way to enjoy Halloween on the cheap is to check your local paper for upcoming events. Many cities have a Halloween event where kids can go trick or treating, take part in costume contests, etc. These are usually free to attend and are a safe and fun way for families to enjoy the holiday.
If you do the research and find out what is happening locally, you just might be able to take the kids trick or treating multiple times! Nothing like a few truck or treats to get some extra candy for free!
Comparison Shop Candy Prices
Candy is an essential part of Halloween. However, not all stores have a great deal on it. For example, you may think a dollar store is a great place to buy your candy, but if you compare the price per ounce, you'll find that places like Walmart may be cheaper. Also, don't forget to look for sales and to use coupons.
Make Your Own Costumes
Your family doesn't have to buy store-bought costumes. It's actually more fun to make your own, especially if you have a theme. For example, you could go as a zombie family or a popular band. Just have fun with and use items you have around the house to create the costumes.
Besides – everyone knows that making homemade Halloween costumes is super fun and simple bonding experience! Start a new family tradition!
Recommended DIY Halloween Costumes
Are you on a tight budget? These tips and ideas are perfect for saving money this Halloween.
The costumes at the store are really expensive, but there are ways that you can make your own! Having a homemade Halloween is fun and easy to do – and oftentimes better than anything that you can buy!
These books below are proof that you can make delicious treats, or even your own costume, with minimal time and effort. This will also give you inspiration for doing so during the other holidays of the year, too.
The Unofficial Hocus Pocus Cookbook: Bewitchingly Delicious Recipes for Fans of the Halloween Classic
Halloween: Costumes and Other Treats (Schiffer Book for Collectors)
Glitterville's Handmade Halloween: A Glittered Guide for Whimsical Crafting!
Go to a Party
Last, but not least, if your family has been invited to a Halloween party, go. It's a fun way to spend the evening and doesn't cost much. Just bring an appetizer or dessert to the party and enjoy spending time with your friends.
Halloween may bring in a lot of money, but that doesn't mean you have to spend a lot of money. There are so many fun things your family can do that don't cost much at all. Whether you attend a community event or make your own costumes, you'll love these frugal ways to enjoy Halloween.
More Money Saving Ideas
Don't let the holidays be a time of year that drains your bank account! You can enjoy the holidays in a way that cuts the costs easily. The focus of the holidays should be about spending time together and not about how you're going to try and recoup and save months after the holidays to try and recoup your spending!
Frugal Ways to Enjoy Thanksgiving
Turkey day is one of our family favorites, but feeding everyone and hosting can really add up fast! Here are a few great tips on saving money during Thanksgiving that shows how you don't have to overspend to have an awesome holiday meal.
How to Save Money on Christmas
Everyone knows that Christmas is the most expensive holiday of the year. But who says that this rule has to be followed? Find out how to save money during this holiday so that you can enjoy it and not be stressed!
About the Author
Rebecca is a certified educator in personal finance (CEPF) and a money-saving expert. As a single mom of two teens, she knows all about the importance of family budgeting and financial goal-setting. She shares her best tips about saving and managing money at Savvy Money Lessons. You can also read her work online at Bankrate, Forbes Advisor, Investopedia and other top publications. Learn more