7 Spookily Simple Ways to Save Money on Halloween
This post may contain affiliate links, which means I may earn a small commission if you click and make a purchase. You can read our full disclosure policy here.
Last Updated on August 27, 2023 by Rebecca
Looking for some frugal ideas to help save money on Halloween this year?
Halloween brings lots of fun–but it can also mean spending on things like costumes, candy, and home decor. In 2022, Americans dropped just under $11 billion on Halloween spending according to the National Retail Federation.
If you're gearing up for the Halloween season, you might be looking for some frugal tips to help keep your budget in check. We've got some eerily easy ways to save money on Halloween while still having plenty of fun as a family!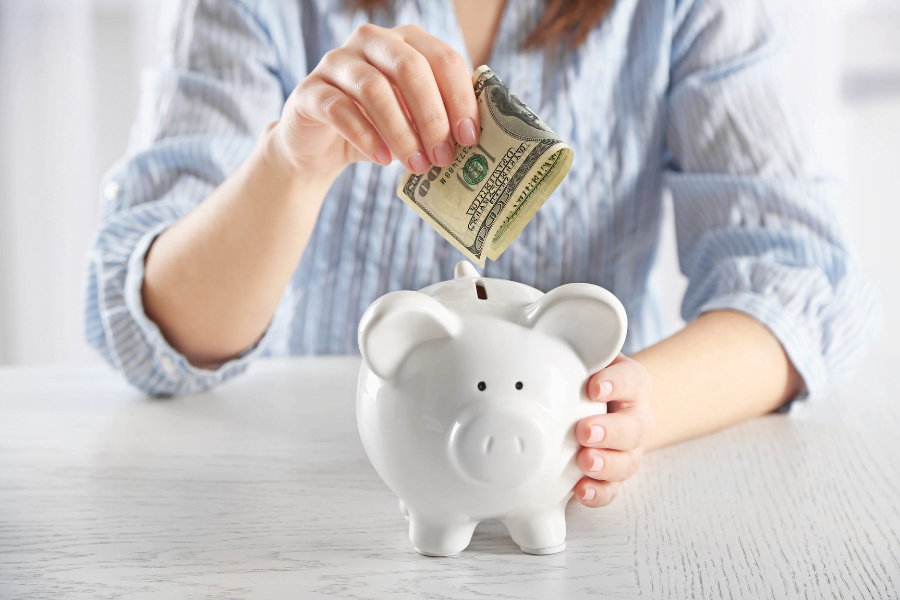 Table of Contents
Best Ways to Save Money on Halloween
When planning your Halloween budget, it helps to break it down by category. Some of the things you're likely to spend money on include:
Costumes
Candy
Decorations and home decor
Fun events
These tips are designed to help you save the money possible in each of those areas so your budget isn't gasping for breath once Halloween rolls around.
1. Shop around for candy
Candy is an essential part of Halloween. However, not all stores have a great deal on it.
For example, you may think a dollar store is a great place to buy your candy, but if you compare the price per ounce, you'll find that places like Walmart may be cheaper.
Checking out sales flyers to see who has the best candy prices is a simple way to save money on Halloween. And don't forget to hit the stores on November 1st when you can find Halloween candy at a steep markdown!
2. Try buying candy in bulk
If you're buying candy to hand out, not just to snack on, buying in bulk could be a smart way to save money at Halloween.
You'll want to do your research to compare prices and calculate the unit price before buying. And remember: only buy what you think you'll be able to give out to trick-or-treaters or eat yourself.
Otherwise, you could end up wasting money on your candy purchases.
3. Get Halloween decor from the dollar store
Dollar stores are a great place to find savings on Halloween items, including decor, trick-or-treat bags, and greeting cards.
If you're crafty, you might try making your own DIY Halloween decor using dollar-store finds. This video offers some great ideas on how to decorate for the spooky season without spending a lot of money.
4. Make your own costumes
Buying costumes could add up to a lot of money, especially if you're trying to get multiple kids ready for Halloween.
Instead of spending money buying costumes, you could try making them instead. And before you get the frights at the thought of having to DIY a Halloween costume, it's actually a lot of fun!
You (and your kids) can make individual costumes or come up with a fun theme and have everyone in the family dress up. Even pets can get in on the fun if you want to dress up your cat or dog!
Checking out what you already have around the house can help you get inspired to come up with costume ideas. You could also scour thrift stores or consignment shops to find clothes or accessories to complete your Halloween looks.
And of course, if you're stumped for cheap Halloween costume ideas, there's always Pinterest.
5. Use cashback apps to buy Halloween supplies
Why pay full price for something if you don't have to?
Cashback apps offer a simple way to save money on Halloween by allowing you to earn back a percentage of what you spend. That's an easy way to put money back in your pocket whether you're shopping for costumes, candy, or ingredients to make homemade Halloween treats!
My favorite cashback app is Rakuten because it's so easy to earn cash back on purchases.
You just have to sign up for a Rakuten account and download the Rakuten browser extension to earn cash back when you shop online. Or you can get the Rakuten mobile app and link your debit card to earn cash back when you shop in stores!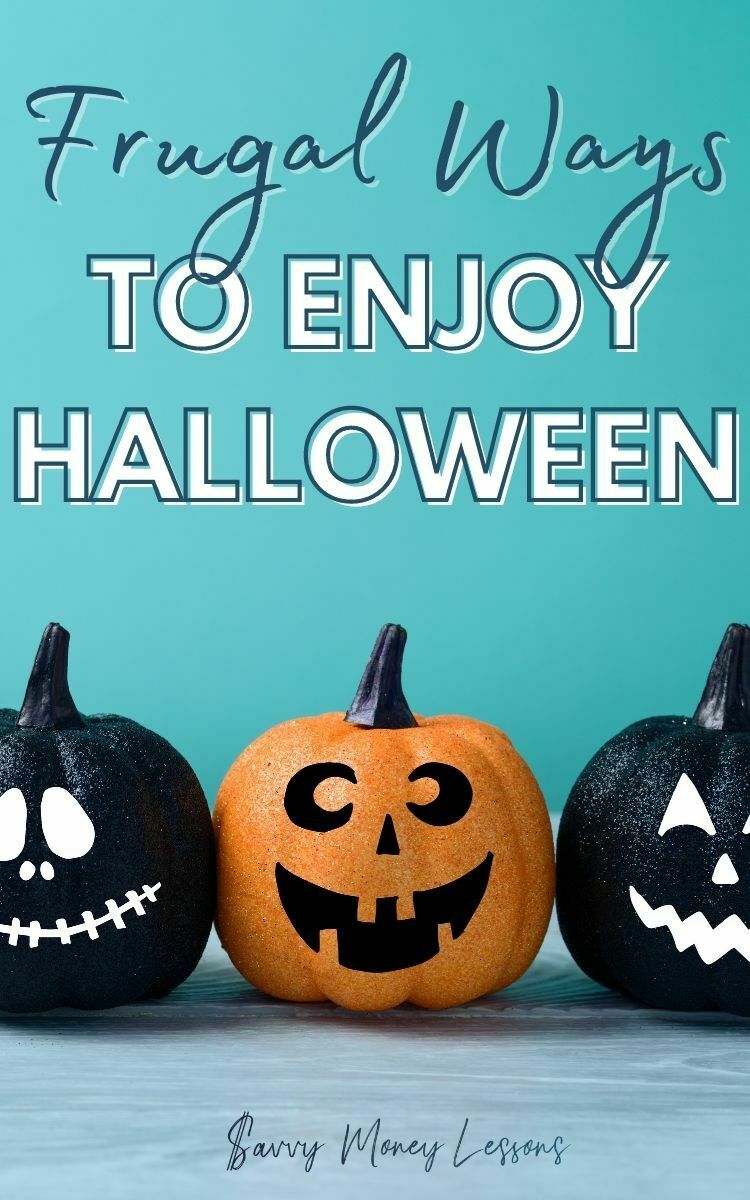 6. Use debit or cash instead of credit
A simple way to save money on Halloween is to only spend the money that you have on hand. That means using a debit card linked to your checking account or cash to pay for the things you plan to buy.
Using a credit card could make it all too easy to overspend. And while you might miss out on earning credit card rewards, you could still earn cash back if you're using the Rakuten app to shop with your debit card.
7. Look for free or low-cost ways to have fun
Halloween is more than just one night of trick-or-treating. There are plenty of other ways to have a good time and it helps to know which ones will cost you the least money if you're on a tight budget.
Here are some of our favorite ways to enjoy Halloween frugally while spending little to no money at all:
Host a spooky movie marathon at home and ask friends to join you with their favorite Halloween snacks.
Try making fun Halloween recipes at home with the kids (gooey popcorn balls, anyone?)
Visit a local fall festival or fall farmer's market in your area.
Head to a trunk-or-treat event (local churches often put these on as an alternative to door-to-door trick-or-treating).
Check out a local pumpkin patch but commit to looking only, since those pumpkins can be expensive!
Host a potluck Halloween party or better yet, attend one that someone else is throwing!
Get an inexpensive pumpkin from the grocery store and carve it together as a family.
Make some Halloween placemats with the kids using construction paper, glue, and of course, googly eyes, then serve your homemade treats on them!
Drive around after dark and check out the neighbors' Halloween decorations.
Build a campfire in the backyard and roast marshmallows or make s'mores while sharing spooky stories.
If you have younger kids who aren't in school yet, visit your local library to see if any Halloween events are going on.
Bonus tip: Start a Halloween savings account
If you like to make the most of Halloween, planning early can help you get ahead financially.
Setting up a Halloween savings account is a great way to get ready for the holiday season since you can set aside money a little at a time. Online banks are usually the best places to look for savings accounts since they usually pay the highest rates while charging the least amount of fees.
Once you open your Halloween savings account, commit to adding money to it every payday. Even $20 a week can really add up over time!
Grow your money faster! Want to get a great rate on your savings? Open a high-yield savings account to earn the most competitive APY on deposits.
Final Thoughts
Halloween may bring in a lot of money for retailers, but that doesn't mean you have to spend a lot of money to make family memories. There are so many things your family can do to enjoy the holiday that don't cost much at all. Whether you attend a community event or make your own costumes, you'll love these frugal ways to enjoy Halloween!
Need more money tips? Read these posts next:
What are your favorite ways to save money on Halloween?
About the Author
Rebecca is a certified educator in personal finance (CEPF) and a money-saving expert. As a single mom of two teens, she knows all about the importance of family budgeting and financial goal-setting. She shares her best tips about saving and managing money at Savvy Money Lessons. You can also read her work online at Bankrate, Forbes Advisor, Investopedia and other top publications. Learn more