Back to School Savings Tips: 5 Simple Ways to Cut Costs
This post may contain affiliate links, which means I may earn a small commission if you click and make a purchase. You can read our full disclosure policy here.
Last Updated on December 10, 2022 by Rebecca
Back to school season can be stressful, especially when it comes to working out your shopping budget.
Families in the U.S. spent $864 on average on back to school shopping in 2022. That's a slight jump from the $849 they spent on average in 2021.
If you're on a tight budget, you could probably use some back to school savings tips. The good news is that there are plenty of ways to save money while getting everything you need on your back to school shopping list.
When it's time for the kids to get back to school, you don't have to break the bank! Here are some simple back to school savings tips to keep your budget in check.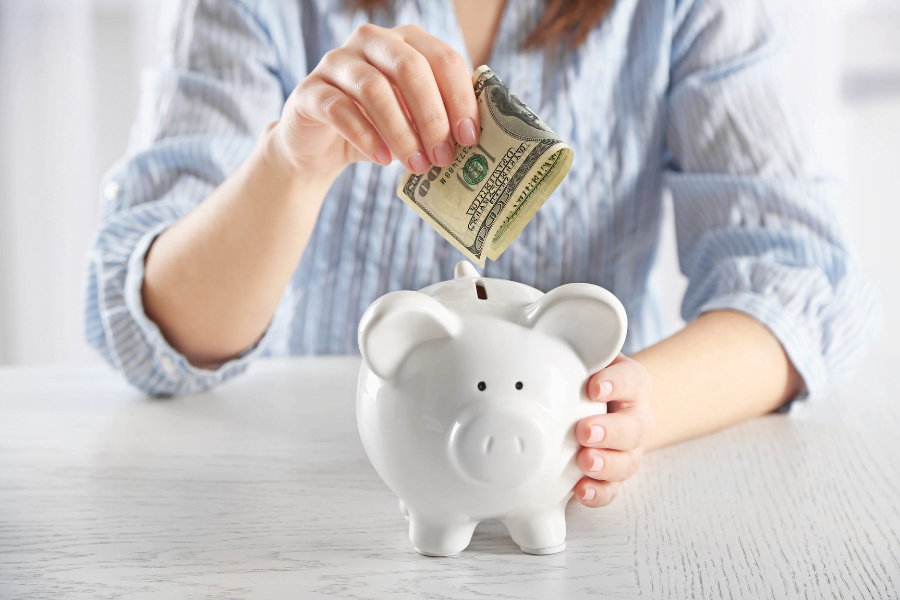 ---
5 Easy Ways to Save on Back to School Shopping
Once the school year is ready to start, it's hard to find a balance that works. It seems like there's always something that needs to be ordered or bought at the last minute.
Getting an early start on budgeting and planning can ensure that your back to school shopping experience goes as smoothly as possible. These tips can help you maximize savings with less stress.
1. Make a back to school shopping list
The first thing you'll want to do before back to school season gets underway is to make a list of everything you need to buy.
For example, your back to school supplies list might include:
Notebooks and notebook paper
Binders and folders
Pens, pencils and pencil cases
Calculators
Protractors
A laptop or tablet
New uniforms or school clothes
Backpacks
Lunchboxes or bento boxes
Hand sanitizer, tissues and other hygiene supplies
If your child goes to public school, the teacher might hand out the supply list at the open house. But you can usually find a list of supplies you'll need in your local Walmart.
Private schools may send out supply lists to parents over the summer. Either way, once you have your list you can figure out what you'll need to buy.
Checking what you already have on hand is an easy way to save money. You might have some folders, notebooks or pencils stashed away that you forgot about that could be used for the upcoming school year.
When it comes to buying school clothes, consider buying secondhand or gently used if you can find clothes in good condition. You could also try hosting a clothing swap with other families to trade out clothes your kids have outgrown for new-to-you items.
2. Start early
Waiting until back to season officially gets underway could be a mistake if you end up scrambling to get what you need.
It's a good idea to start shopping early so that you can take advantage of all kinds of great deals. Lots of stores start rolling out back to school shopping deals in mid-July, so being the early bird could definitely pay off.
Some of the places you can scout out sales early include:
Walmart
Target
Office Depot or Office Max
Staples
Dollar Tree
Dollar General
Grocery stores
You can also check out deals on Amazon. Amazon could be a great option for buying back to school supplies in bulk or finding higher-priced items like tablets or graphing calculators at a lower price.
?Try Amazon Prime free for 30-days and get 2-day delivery on selected items, plus unlimited streaming for TVs and movies!
3. Compare prices
Once all the back-to-school sales start, it can be overwhelming. But figuring out who has the best prices is one of the most important back to school savings tips that you can't afford to skip.
Sit down and look through the sales flyers from the newspaper or online to determine who has the best prices. If you like, you can make a spreadsheet to help you keep track of who has the best prices on each item on your shopping list.
Then, plan your back to school shopping trips strategically around each deal that you find. And don't forget to check price matching policies for each store you shop at in case you find something at a better price after you buy it.
Pro tip: Use the Honey browser extension to compare prices online automatically.
4. Shop tax-free weekends if possible
A number of states offer sales tax holidays for back to school shopping. You can buy eligible items and pay no sales tax on the purchase, saving a little money in the process.
Depending on what you're buying, you could save a lot of money. For example, if you need a new computer or laptop for your child, skipping the sales tax could reduce the price quite a bit.
Pro tip: Check the rules to see what items qualify as tax-free items since the list can change from year to year.
5. Shop BOGO deals
Here's one of the smartest back to school savings tips: Score BOGO deals.
Buy one, get free deals essentially let you get twice the items you need for the price of one. Dollar stores and office supply stores often have great buy one get one free deals on everything from pens to crayons to construction paper.
If you can find stores that allow to you to purchase one product at half price, it's an even better deal.
Bonus Tip: Use Cash Back Apps to Shop
If you're putting these back to school savings tips to work, you're already on the right track. You can step up your savings game even more by using cash back apps to shop.
Cash back apps pay you back a percentage of what you spend. You link the app to your checking account or credit cards, spend and earn real cash.
If you're looking for cash back apps to try for back to school shopping, here are a few we recommend:
Rakuten. Rakuten is a cash back app that pays up to 40% back for online and in store shopping. You can get $10 in bonus money when you sign up and earn $30 for each person you refer!
Ibotta. Ibotta pays you cash back when you shop partner retailers and grocery stores. It's a great app to have if you want to save money on clothes, shoes, school supplies or snacks. You can get up to $20 in bonus cash just for signing up!
Drop. Drop is another great cash back app that pays you back when you shop. You can earn points with the app, then redeem those points for gift cards to PayPal, Amazon and lots of other great retailers.
Recommended Money Management Books
Are you having a hard time managing your resources?
Let's be honest, sometimes saving money isn't always easy. This is where getting some books about managing money can be a huge help. The books below are great examples of how you can use books to teach you how to save money.
More Saving Money Tips
Now that you know you can save money in all areas of your life, it's time to make that happen. The following tips show you that you can easily cut costs in all aspects of your life!
Best Way to Save Money Every Month
These tips will show you have you can save money monthly. These tips can be used in many different scenarios and can keep you on track with your money goals every single month.
8 Ways to Save Money on Groceries
Why spend all your money at the store if you don't have to? Learn how to cut costs at the grocery store so that you can cut costs on your food bills. With the rising costs of food, this is sure to be super helpful for all families!
How to Save Money While Traveling
Have a vacation where you're not stretching the budget! These simple tips can help you save money on vacation easily!
Final thoughts on back to school savings tips
Getting your kids ready for the start of a new school year shouldn't be a headache. The last thing you need is to be worried about how you're going to pay for it all. Putting these back to money-saving tips to work can help you complete your shopping list without going over budget.
Back to School Savings Tips
About the Author
Rebecca is a certified educator in personal finance (CEPF) and a money-saving expert. As a single mom of two teens, she knows all about the importance of family budgeting and financial goal-setting. She shares her best tips about saving and managing money at Savvy Money Lessons. You can also read her work online at Bankrate, Forbes Advisor, Investopedia and other top publications. Learn more