33 Best Jobs for 8 Year Olds to Make Money [2023]
This post may contain affiliate links, which means I may earn a small commission if you click and make a purchase. You can read our full disclosure policy here.
Last Updated on September 4, 2023 by Rebecca
Do you have a child who's interested in finding ways to make extra money?
Finding jobs for 8 year olds isn't always easy, since they can't go out and get a regular 9 to 5 gig. But there are still plenty of ways for younger children to earn money of their own.
Teaching kids how to make money at an early age can set them up for financial success as adults. And it's also a great way to feed younger kids' interests if they've got an entrepreneurial spirit.
Curious about the best jobs for 8 year olds? Here are 20+ great options for job ideas that kids can do at a young age.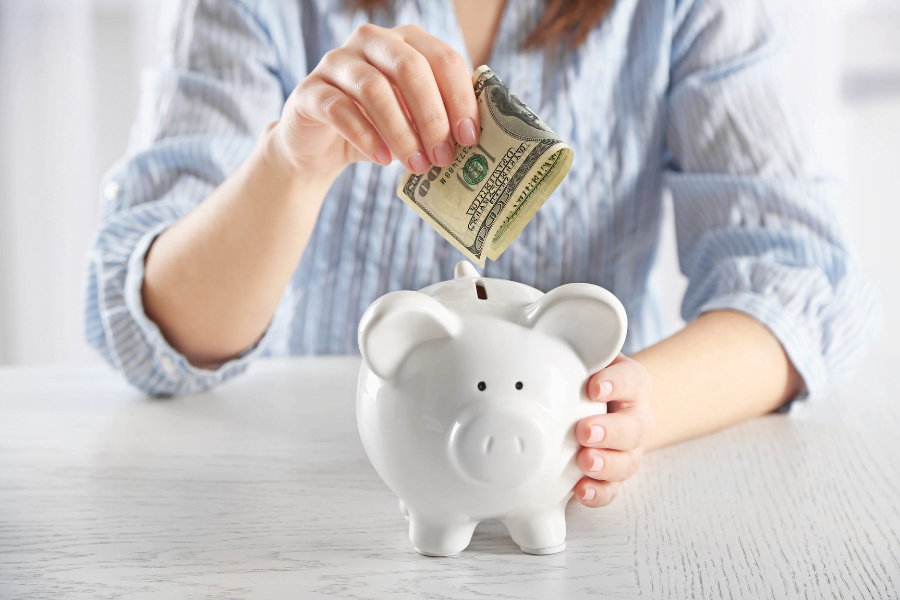 Table of Contents
Jobs for 8 Year Olds to Earn Money Around the House
At 8 years old, kids can't get traditional jobs since child labor laws don't permit it. But there are still lots of ways kids can earn extra cash at 8 years of age.
1. Doing chores
While doing household chores for cash isn't the same as a real job, it's a good way to teach kids the value of a dollar as well as some responsibility. And kids can earn a decent amount of pocket money this way.
There are lots of simple tasks an 8 year old can do at home to make extra money, many of which don't take much time to do. Some of the household chores you might pay young kids to do include:
Dusting
Sweeping
Doing dishes or loading the dishwasher
Taking out the trash
Sorting the recycling
Vacuuming
Mopping
​Setting up a chore chart is an easy way to help kids keep track of what they've done for the day or week and what needs to be checked off.
2. Spring cleaning
Spring cleaning can be a big task and if you don't want to do it all yourself, it could make sense to pay your 8 year old to help.
Some of the spring cleaning tasks 8 year olds might be able to tackle include:
Clearing out the clutter in their closets or under their beds
Going through their clothes and pulling out ones they've outgrown
Sorting through their books and toys to get rid of the ones they don't read or play with anymore
Helping with clearing out clutter from the garage
Decluttering the pantry and fridge to toss out expired foods
Kids can make a little money and you get a more organized house. It's a win-win!
And if you also do some decluttering in the fall, you could get kids to pitch in and earn their own money by helping out with that as well.
3. Seasonal decorating
Decorating for the holidays is a fun way for young children to earn a little money and help you cross a few items off your to-do list. It's also something kids could do to earn money all year round if you regularly decorate for different seasons, holidays, or other special occasions.
4. Take care of plants
​Babysitting for younger siblings might not be an option at 8 years olds, but kids could still make money tending to plants instead.
You might pay your 8 year old to take care of your houseplants or let them work as a plant sitter for neighbors when they're out of town. This is a pretty simple odd job that young kids can do that doesn't require a lot of hard work.
5. Take care of pets
Caring for pets is another easy way for 8 year olds to make extra money.
You could pay your child to care for pets at home or let them take care of neighbors' pets after school hours end. That might include feeding them, playing with them, or cleaning up after any messes they make.
6. Do odd jobs for neighbors
Don't have any chores you need done at home? Your 8 year old might be able to make good money doing household tasks or odd jobs for other people in your neighborhood. 
For example, you might have an elderly neighbor who could use a hand with taking their trash cans to the curb on trash day and bringing them back in. Or if a neighbor is on vacation, they might pay your child a little money to collect the mail each day.
Those are easy jobs for 8 year olds and they could be an ideal way for a kid to learn some financial responsibility by earning money. And if you don't have any neighbors close by, you might ask family members if they have any simple tasks your child could do to earn some money.
Outdoor Jobs for 8 Year Olds
If you've got a child who loves outdoor activities, helping them find ways to make money outside could be a no-brainer. And some of the jobs for 8 year olds listed here could end up being a lot of fun!
7. Rake leaves
What kid doesn't like to jump in a big pile of leaves during the fall? If you live in an area that gets all four seasons of weather, you could encourage your 8 year old to start their own business raking leaves once the cooler weather rolls around.
They'll just need a good rake and some lawn bags to collect the leaves they rake up.
8. Shovel snow
Shoveling snow and clearing ice off of motor vehicles could be a good job for 8 year olds during the winter months. Your child will need the right outdoor clothing and a sturdy shovel to get started, but otherwise, this is a low-cost job idea to try.
9. Hold a yard sale
Does your 8 year old have some old toys, books, board games, clothes, or video games they'd like to get rid of? They could make extra money selling them at a yard sale.
The summer months are a great time to host a yard sale and clean out the clutter. In terms of how much money your 8 year old could make with a yard sale, it really depends on what they've got to sell.
And keep in mind that if they've got some collectible toys or vintage items, you might be able to help them make even more money by selling them on eBay.
Related post: 15 Smart Ways to Save Money on Toys
10. Do yard work
Yard work is one of the best ways for kids to make money because there's always something that needs to be done.
Some of the ways a kid could make money doing yard work include:
Pulling weeds
Spreading mulch
Planting bulbs in the spring
Trimming hedges or small trees
Sweeping sidewalks
Helping to put down pavers or spread gravel
​Kids can get time outdoors and exercise while making some extra cash!
11. Tend a garden
​If you have a backyard garden, you might pay your 8 year old to help take care of it.
Some of the things kids could do to make money gardening include:
Pulling weeds
Spreading fertilizer
Helping to set up plant stakes
Checking plants for pests
Planting bulbs or seedlings
Taking care of a garden is also a great idea if you want to teach kids about sustainability and caring for the earth.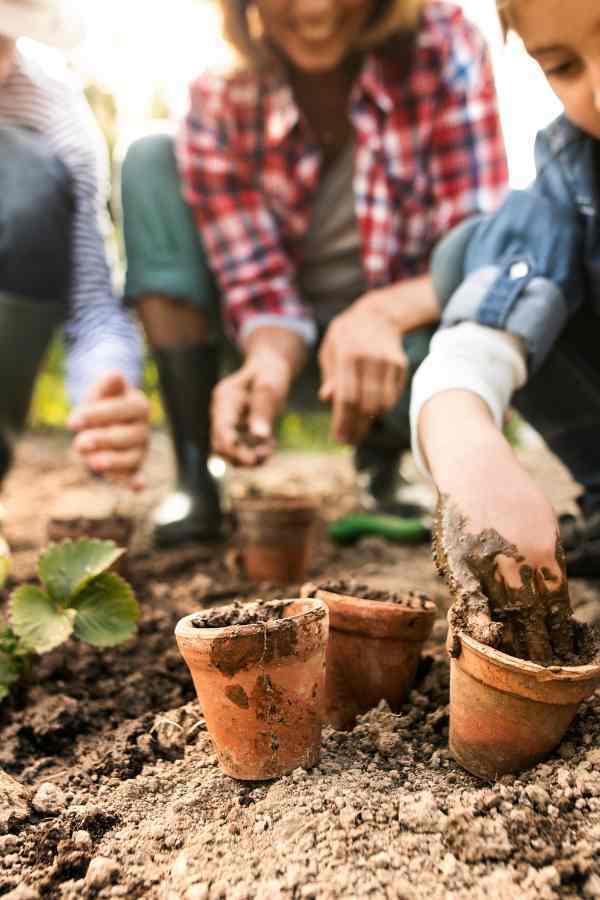 12. Grow and sell vegetables
​Setting up a garden plot in the backyard is another opportunity for kids to make money if they're selling their produce for cash.
They can take what they grow to the farmer's market (you can search for local markets in your area) or sell them to friends, family members, and neighbors. Their buyers get fresh, organic produce and they get to earn a little money while doing something they enjoy.
13. Pick up golf balls
If you live near a golf course, you might ask whether your 8 year old could get a job fetching golf balls. They can collect golf balls, clean them, and then resell them to the pro shop to earn some money.
And their experience on the golf course could help them prepare for a job as a caddy later. Caddying can be an excellent way for tweens and teens to make money on summer breaks.
14. Walk dogs
​If you live in a walkable area, then becoming a dog walker is a great job for 8 year olds who like spending time outside.
You might need to get them a pooper scooper and some poop bags so they're not leaving any waste behind. And you may want to walk along with them just to make sure that they (and the dogs they're walking) stay safe, especially if your neighborhood gets a fair amount of traffic from motor vehicles.
15. Start a paper route
A paper route is an old-fashioned job for kids but there are still some elementary schoolers, middle schoolers, and even high schoolers making money this way. You can reach out to your local newspaper office to see if they still offer paper route jobs for kids.
16. Wash cars
Washing cars is a fun way for kids to make money while spending time outside. What kid doesn't like getting wet and having a sponge fight, right?
You can help your 8 year old set up a car wash in your driveway and advertise their services on your social media accounts. You'll want to make sure they've got plenty of buckets, sponges, and cleaning supplies ready to go once their first customer pulls in.
17. Wash windows
Washing windows is a home maintenance chore that plenty of people dread doing. You could hit them with a hose but if you've got an 8 year old who's eager to make some money, you could have them clean the windows instead.
Depending on the height of the windows, they might need a retractable pole to get the job done. And of course, you'll want to make sure you're there to supervise if your child is climbing a ladder to reach higher spots.
18. Set up a lemonade stand
Lemonade stands are another old-school way for kids to make money but they're still a popular job idea for 8 year olds.
Here's what you'll need to help your child start their lemonade business:
​A cooler to hold your lemonade
Lemonade makings (lemons, sugar or honey, ice, etc.)
Cups
A table to hold everything
If you're setting up a lemonade stand in your driveway, be sure to check your HOA rules first. Believe it or not, there are some grumpy adults out there who are only too happy to shut down a young entrepreneur for what they see as a violation of HOA guidelines.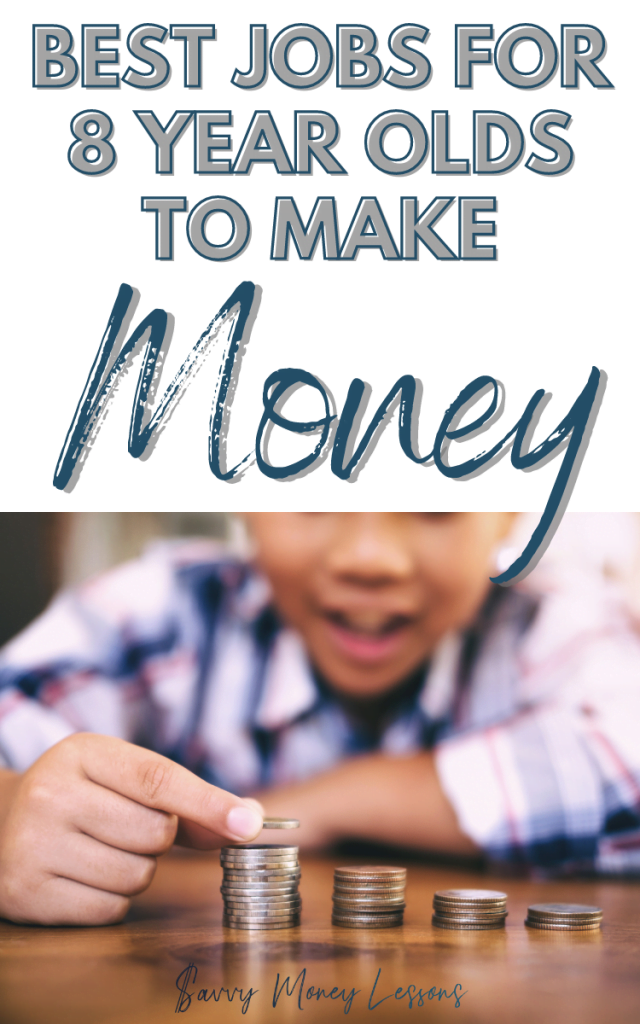 Online Jobs for 8 Year Olds
Got a kid who's interested in making money online? The great thing about online jobs is that you might only need an internet connection and a laptop or a phone with a good camera to get started.
There aren't a lot of online jobs for 8 years old out there, but there are a few young kids can still do.
19. YouTuber
Starting a YouTube channel might be a no-brainer job idea for an 8 year old if they're already spending a lot of time watching videos.
There are lots of kids who are running successful YouTube channels with the help of their parents. Two of the most popular niches are video games and gaming channels, and channels that focus on toy unboxings.
You'll need a good camera and some decent lighting to set up a YouTube channel. But otherwise, this could be a great way for a kid to start making money if they're able to meet YouTube's monetization guidelines.
20. Blogger
Blogging is a good way to make passive income, which means money that you don't necessarily have to do ongoing work to earn.
For example, I own several blogs that make money from ads and affiliate marketing. Blog posts that I wrote years ago continuously make money without me having to do much other than update them occasionally.
If your 8 year old is interested in starting a blog, they'll need a hosting plan first. Siteground is a great choice because it's easy to set up and it doesn't cost a lot of money.
And of course, your child will need something to write about!
Some of the topics an 8 year old might consider for a blog include:
Favorite TV shows or movies
Toys
Books
Fashion, if they're fashion-forward
Music
You can help them build up their blog traffic by sharing their posts on social media accounts. And learning about search engine optimization can also help give their new blog a boost!
---
Ready to get your budget together?
Grab our monthly budget worksheet, spending tracker and debt repayment tracker when you join the Savvy Money Lessons email list!
Creative Jobs for 8 Year Olds
Got a kid with a creative streak? These jobs for 8 year olds are a little outside-the-box but they're all great ways for a child to make money!
21. Actor
Child actors get paid to appear in commercials, tv shows, and movies. If your elementary schooler is interested in appearing onscreen, this could be a perfect job for an 8 year old to try!
You can find casting calls and auditions for young people in your area through these sites:
22. Model
If your 8 year old isn't quite ready to test their acting skills, they might try modeling instead.
​One of the easiest ways to find child modeling gigs is to check with small businesses in your area. Local businesses might be looking for kids to advertise their products or services.
That's a great way for kids to get some modeling experience to decide if it's right for them. If they think it is, you can check out sites like Models Direct or Wilhelmina to find more legitimate modeling jobs for kids.
23. Crafter
If your kid is crafty, they could make money selling handmade items.
Some of the best things to make and sell as a kid include:
Bath bombs
Soap
Candles
Bracelets
Holiday ornaments
Hair accessories
Your child can sell their handmade crafts at a local farmer's market, flea market, or yard sale. Or you might consider setting up an Etsy shop and selling their crafts for them online.
24. Baker
Got a kid who loves to bake?
They could make money with their own home bakery business. For example, they might make money selling homemade cakes, pies, muffins, or even designer dog treats!
Just be sure to check out local home kitchen laws in your state to make sure you can sell your baked goods legally.
25. Artist
If your child has an artistic streak, they could make money selling commissions of their work or original designs.
For example, they could offer to draw or paint portraits of family members or neighbors. Or they might offer art classes for younger kids in the neighborhood who are eager to hone their artistic skills.
26. Pet photography
​An 8 year old who loves pets and taking photos could combine those passions into a job as a pet photographer.
They'll need a good camera and maybe a few props, like toys or pet apparel. And of course, you'll need to help your child advertise so they can start getting clients.
But taking pet photos can be a fun way for a kid to make money. And they can get in lots of practice taking pics of their own pets to build out their portfolio.
27. Paint and sell rocks
Painted rocks are a big trend and there are lots of people who are willing to pay good money to buy them.
If your child likes to paint, then making and selling painted rocks could be a great business idea! If you're not sure how to source materials, check out this guide for where to buy rocks to paint and sell.
28. Graphic designer
Graphic designers can make money designing all sorts of things, like logos, book covers, or even entire websites.
If your 8 year old is interested in design, they might make money by designing logos for local businesses. Once they turn 13, you can set them up with an account on Fiverr where they can sell their graphic design services on a broader scale.
Pro tip: While you're making your family budget, you can encourage kids to try making a needs/want budget of their own using these fun printables!
Other Ways for 8 Year Olds to Make Money
Still looking for jobs for 8 year olds? Here are a few more ways for kids to earn some extra cash!
29. Get paid to recycle
Collecting cans, bottles, and scrap metal might not be the most exciting way to spend an afternoon. But it's an easy job for 8 year olds to make money if you've got a local recycling center that pays cash for those things.
You can search for a scrap yard near you to find out where your child can sell cans or metal for cash.
30. Get good grades
There's a lot of debate about whether parents should pay for grades, with some saying yes and others saying no. If you're comfortable paying your child to earn high marks in school, then that's another way for an 8 year old to earn some easy money.
31. Earn money for reading books
Paying kids to read can be as controversial as paying for grades, but sometimes, kids need a strong incentive to develop an interest in reading.
​One way to make it fun is to set mini-challenges and checkpoints that allow kids to earn special rewards once they reach certain milestones. For instance, they might get a special "bonus" for every 10 books or 100 pages they finish.
32. Work in the family business
Own a business of your own? Federal law says that it's okay to "hire" your kids to work for you and it doesn't violate child labor laws.
The kinds of tasks you can give an 8 year old to do really depends on the type of business you have.
For example, if you run an Etsy business you might pay your child to help you with packing orders. But if you run a small farm, like friends of ours do, you might pay your kids to feed the livestock or help with putting up fencing.
33. Start a business of their own
Last but not least, you could encourage kids to start a business of their own.
They could start a business around a specific interest they have, or a skill they'd like to develop better. There's really no end to the number of business ideas for kids out there.
Reading some business books for kids can be a great way to brainstorm ideas. Here are a few we love!
Frequently Asked Questions (FAQs)
Can an 8 year old get a real job?
No, federal law prohibits 8 year olds from working regular jobs under the Fair Labor Standards Act. Child labor laws exist to protect kids from unsafe and unfair working conditions. Once kids hit their teen years, the list of jobs they can get expands. For example, some of the ways a teen can earn money include babysitting, searching for a part-time job with local businesses, and working as a camp counselor during summer breaks.
Keep in mind that your teen might need a work permit to get a job if it's required by state law. In terms of what they might earn, lots of teen jobs pay minimum wage, though it's possible to find some that offer higher rates.
​If your 8 year old is interested in making money online, it's important to keep age restrictions in mind. For example, many online platforms that pay real money for taking online surveys have a minimum age requirement of 18, though a few allow kids as young as 13 to sign up.
How can an 8 year old earn money?
There are lots of different types of jobs an 8 year old can do to earn money, starting with doing household chores. Other ways for an 8 year old to make good money include doing yardwork, doing odd jobs for neighbors, selling old toys for cash, and starting a YouTube channel. Those are all non-hazardous jobs that let kids earn money in a creative way.
​Are jobs for 8 year olds a good idea?
​Getting a "job" at 8 years old is a great opportunity for kids to learn the value of hard work and develop their financial skills. Once they become young adults, they should already have a good understanding of how to make money and of course, the most important thing–how to manage it.
Jobs for 8 year olds can also teach other kids valuable skills. For example, they can develop their communication skills and interpersonal skills, which could make it easier for them to get a real job once they're older.
What should an 8 year old do with the money they're earning?
​If your 8 year old is already making their own money, teaching them how to budget can help them learn how to manage it. For example, you might use the spend/save/give rule which teaches kids to spend some of what they earn, save some of it, and give some away to a good cause.
​Piggy banks are great places to keep smaller amounts of money but if your 8 year old is earning a pretty decent amount, you might want to set up a savings account for them instead. Online banks are usually the best places to look for savings accounts that offer the highest interest rates while charging the fewest fees.
Grow your money faster! Want to get a great rate on your savings? Open a high-yield savings account to earn the most competitive APY on deposits.
Final Thoughts
​If you've landed on this post while searching for jobs for 8 year olds, you've hopefully gotten a few ideas to help your child start making money. It's never too soon to teach kids how money works, how to earn it, and how to take care of it!
Need more money tips? Read these posts next:
What jobs for 8 year olds do you recommend?
About the Author
Rebecca is a certified educator in personal finance (CEPF) and a money-saving expert. As a single mom of two teens, she knows all about the importance of family budgeting and financial goal-setting. She shares her best tips about saving and managing money at Savvy Money Lessons. You can also read her work online at Bankrate, Forbes Advisor, Investopedia and other top publications. Learn more