Best Ways to Save Money Every Month
This post may contain affiliate links, which means I may earn a small commission if you click and make a purchase. You can read our full disclosure policy here.
Last Updated on December 10, 2022 by Rebecca
Summer is right around the corner and it's time to start stocking up on all the items we'll need. Whether it's sunscreen or baked beans, you can save money on these items. Let's take a closer look at the best ways to save money every month.
With just a few simple tips on how to alter spending, you can save money every month easily and get started doing so right away!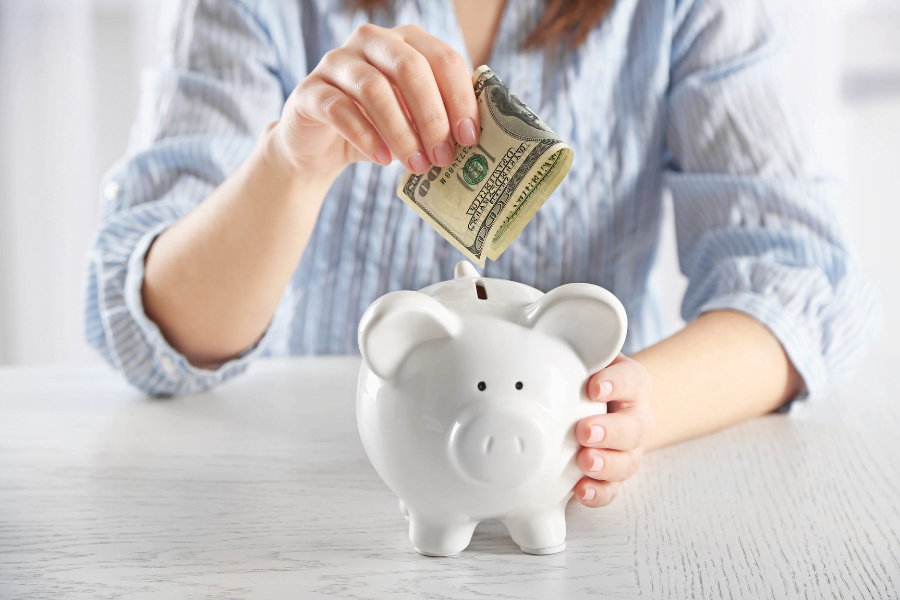 ---
Ready to start saving? Try the 100 Envelope Savings Challenge and discover that saving money is easier than you think!
Best Ways to Save Money Every Month
The following tips prove that it doesn't have to be a huge effort to start cuttings costs. You can easily start to chip away at what you're spending monthly without it overcoming and becoming an obsession! Most people are spending way more than they ever realize each and every month.
Check Grocery Store Sales
Check your grocery store sales each week for items that you'll need throughout the summer months. You especially want to check sales around the summer holidays. You'll find everything from condiments to paper plates to baked beans to soda. Stock up on the items your family uses the most so that you never have to pay full price.
Clip Those Coupons
Whether the coupons are in your Sunday paper or on the store's website, you can save so much money by putting in the time to clip coupons. If you want a great tip, buy your Sunday paper at your Dollar Tree so that you save even more money.
Match Sales
Some grocery stores and drugstores make it easy to match your coupons to the sales. For example, Walgreen's will put in the ad if there's a coupon in the Sunday paper or on their website. Some stores even allow you to combine the manufacturer's coupon with the store coupon and the sale for huge savings. Take the time to learn your store's coupon rules.
Price Match
Some stores will match other stores' advertised pricing so anything you'd find in their flyers. Walmart does this for us and I do all of my grocery shopping there and using an app on my phone called Flipp to find items in different flyers. When you go to check out, they ring in the advertised price of their competitors. Bam, money saved right there.
Recommended Money Management Books
Are you having a hard time managing your resources? These books will educate you about handling your money, getting out of debt, and being financially stable.
Don't feel like you have to tackle it alone. The book resources below can easily help you in finding ways to cut costs. These tips are practical and can work if you're willing to put in the effort.
The great thing about adding books to your daily studying is that there will always be new pieces of information that can help you along the way. These are just a few money books that are great – there are so many more!
Super Saving Money Tips – Discover Quick and Easy Ways To Fatten Your Piggy Bank
Why Didn't They Teach Me This in School?: 99 Personal Money Management Principles to Live By
The Psychology of Money: Timeless lessons on wealth, greed, and happiness
Get Good with Money: Ten Simple Steps to Becoming Financially Whole
Stacked: Your Super-Serious Guide to Modern Money Management
925 Ideas to Help You Save Money, Get Out of Debt and Retire A Millionaire So You Can Leave Your Mark on the World
Shop the Drugstores
Drugstores can be overpriced on regular priced items. However, they often have summer essentials on sale. Whether you need sunscreen or sunglasses, you can sometimes find great deals. Take time each week to see what your local drugstores have on sale and if you have any coupons that will help you save even more.
Shop the Farmer's Market
Instead of paying $7 for a watermelon at your grocery store, visit your local farmer's market. When you shop at the farmer's market, you cut out the middleman. This allows you to get the best price. But, it also allows you to get local produce that is usually picked the same day it's sold.
Look for Special Sized Products
Last, but not least, look for special-sized products. Walmart and other big discount stores are the best places to find these products. For example, Walmart usually has a special grocery aisle devoted to summer foods and you'll find larger sizes of ketchup and other summer essentials for the same price as the smaller packages.
You don't have to overpay for the items you need this summer. There are so many easy ways to save on everything you need. Whether you need to stock up for cookouts or keep the family protected from the sun, you can save money on summer essentials.
More Money Saving Ideas
As you can see, saving money isn't always hard. There are many people who don't try to save money because they feel like it's too much work. Your end goal of saving money is important to figure out so that it's the motivation for you to stay on track with your money-saving goals.
8 Ways to Save Money on Groceries
Stop spending too much money at the grocery store. It's true that the price of food is rising but that doesn't mean that you have to always pay the asking price. These tips can help you cut down the costs easily.
6 Ways to Save Money on Kids Toys
We all know that kids love toys but that doesn't mean that you shouldn't buy new toys. It's time to think outside the box and spend your money wisely. This can work for birthday gifts, Christmas gifts, and more!
How to Save Money While Traveling
Are you ready to travel more but don't want to break the bank? It's true that traveling can be expensive but there are tips to cut the costs.
How to Save Money: 22 Simple Tips by Ramsey Solutions
Here are additional tips to save money that really do work! Take charge of your spending habits with these simple savings tips!
About the Author
Rebecca is a certified educator in personal finance (CEPF) and a money-saving expert. As a single mom of two teens, she knows all about the importance of family budgeting and financial goal-setting. She shares her best tips about saving and managing money at Savvy Money Lessons. You can also read her work online at Bankrate, Forbes Advisor, Investopedia and other top publications. Learn more