Gardening to Save Money [8 Smart Tips to Cut Your Food Budget!]
This post may contain affiliate links, which means I may earn a small commission if you click and make a purchase. You can read our full disclosure policy here.
Last Updated on March 5, 2023 by Rebecca
Gardening to save money can be a smart way to cut your grocery bill. Growing your own food at home is also a great opportunity to teach your kids where food comes from and what it means to be self-reliant.
Even if you don't have a green thumb, it's possible to start your own garden in the backyard (or on the back porch) to save money. If you've always dreamed of having your own vegetable garden and you want to spend less money on food, these tips can help you get started!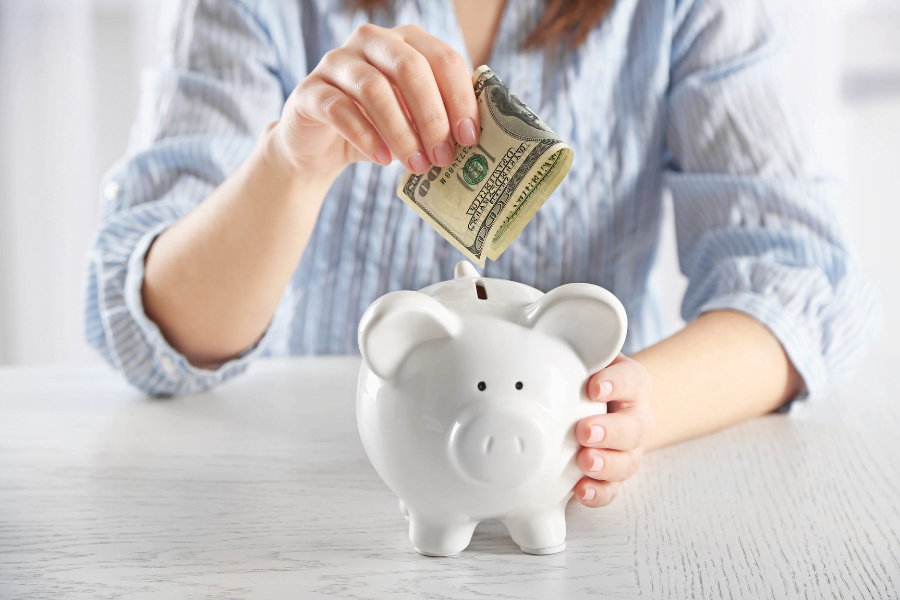 Gardening to Save Money: Is It Worth It?
A typical two-person household spends anywhere from $510 to $820 per month on groceries, according to Zippia. Add in a hungry kid or two and you could easily find yourself spending a lot of money just on food.
Can gardening save you money on food? Absolutely!
In terms of the amount of money you might save, it can depend on:
Whether you have a large garden or a small garden
What types of fruits, vegetables or fresh herbs you're growing
How careful you are about managing food waste (making your own compost is an excellent way to save money gardening!)
Whether you're doing raised bed gardening or planting straight into the ground
You might need to spend some money to get your first garden going. Again, how much money you need to spend can depend on different things, including how much space you have to garden and what kind of basic equipment and supplies you'll need.
It's very easy to get carried away and spend a small fortune trying to start a home garden. But if you're all about gardening to save money, there are plenty of ways to do it on the cheap.
Grow your money faster! Want to get a great rate on your savings? Open a high-yield savings account to earn the most competitive APY on deposits.
Best Tips for Gardening to Save Money
Ready to start a garden to save money on your food budget? Here are the best ways to save money gardening while growing plenty of delicious, healthy food for your family.
1. Only plant what you'll use
This tip for gardening to save money comes first on the list because it's arguably the most important part of the entire process.
If you're growing vegetables just to grow them, you're going to end up with a lot of wasted food–and wasted money. The same goes if you come across a great deal on seeds or starter plants.
Sure, you might be able to get 50 tomato plants for a bargain price. But how many pounds of tomatoes will your family actually eat?
When choosing what to plant, it pays to use a little bit of discretion so that you're not sinking your money or time into growing things that you'll never eat.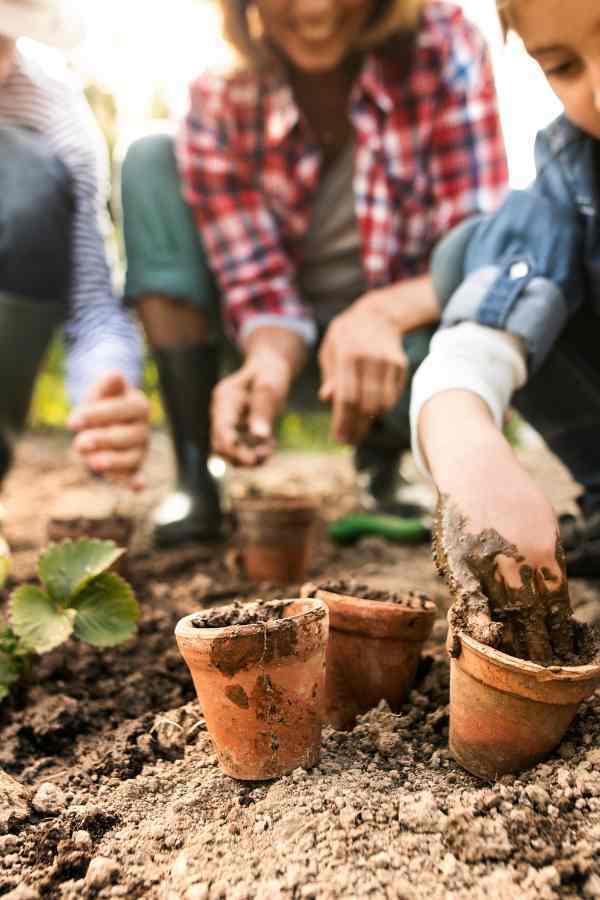 2. Choose high-yielding produce
High yield produce is any produce that yields an above-average amount of food per square foot.
If you don't have a lot of room to set up garden beds, then choosing high-yield vegetables can help put the space you do have to good use. That's the basic principle behind square foot gardening.
Here are some of the best high yield produce options if you're gardening to save money:
Pole beans (including different varieties of green beans)
Zucchini
Peas
Hot peppers
Leafy greens (Pro tip: Ice green loose leaf is one of the highest-yielding types of leaf lettuce!)
Tomatoes
Again, remember that if you're vegetable gardening to save money, you only want to grow what you'll be able to eat or use.
If you're worried about having a surplus, consider what you'll do with the extra.
For example, you could pickle and can peppers or turn cherry tomatoes into jars of tasty spaghetti sauce. Trading veggies with neighbors, friends or family is another way to save money while sharing part of your crop.
So you might trade the 10 lbs of tomatoes you're not going to use for two heaping baskets of swiss chard that your neighbor down the street grew in their own yard. You both get something delicious and nothing is going to waste.
3. Start seeds, not plants
If you're gardening on a budget to save money, buying seeds instead of plants is your best bet.
New plants can be quite expensive, depending on what you want to put in your garden. You could spend less money (and get a lot more for your buck) by purchasing seeds instead.
You might look for seeds at your:
Local garden center
Local grocery store
Favorite hardware store
Local dollar store
The variety of seeds you'll find can depend on where you're shopping for them. You might also check out seed catalogs online to compare prices before you buy.
Don't have any extra money to buy seeds? There are actually quite a few ways to get seeds for a vegetable garden with little to no additional cost!
Here are some ways to get free seeds when you're gardening to save money:
Seed library. A seed library works sort of like a regular library only you're borrowing seeds, not books. You can find a seed library near you, get the seeds you need and once you have a good harvest you can return an equal number of seeds back.
Seed swaps. Seed swaps or seed exchanges let you trade seeds you have but don't plan to use for seeds that you want. A seed swap can be the best way to get seeds for free if you're trading seeds with another home gardener locally. You can use the Seed Savers Exchange to find seeds for trade near you.
Save your seeds. Before you to toss out that apple core, the leftover pepper that went bad or other kitchen scraps, consider what you can reuse first. You might be able to grow fresh veggies using leftovers from your own produce without spending anything extra.
Community gardens may offer free seeds to beginning gardeners who are hoping to start a vegetable plot at home. Volunteering in your local community garden as a family can also be a great way to get some experience with gardening while spending quality time together.
4. Choose low-cost produce
If it's your first year gardening to save money, starting off with inexpensive vegetables could be a smart move.
Here's why. If you've never tried gardening before, there's a good chance that you're going to make mistakes.
Maybe you choose the wrong soil or you overwater your plants. Or you happily fill in your garden space but forget to fence it off so that hungry deer or rabbits can't get to it.
Choosing inexpensive seeds and plants while you're still learning how to garden is a good idea if you don't want to feel like you've wasted money. And any mistakes you make along the way can help you better prepare for next year so that your garden is even more of a success.
5. Don't overspend on "stuff"
There are lots of ways to plant a garden at home.
You could start with herb plants on your windowsill, then branch out to a container garden on the back deck before going full-on with a large-scale vegetable plot.
Along the way, you might be tempted to buy a lot of shiny new things for your garden, like high-end compost bins, fancy planters or top-of-the-line gardening tools.
If you're gardening to save money, then spending a lot of cash on extras kind of defeats the purpose.
Sticking with the basics — a packet of seeds, some soil and a hand trowel — can get you moving in the right direction when growing fresh produce is the goal. And consider what household items you already have that you might be able to repurpose into potting containers to hold your seedlings.
If you're able to sell some of what you're growing at your local farmers market or to people in your community, then you can invest some of that money back into upgrading your gardening setup.
6. Make your own mulch
Mulch can protect tender plants and make your garden look a little nicer but it can cost money. Getting free mulch or making your own could be a huge money-saver.
Old newspapers can make great mulch material if you have some handy. You can also use leaves or pine straw to protect your plants.
Some gardening experts also recommend mixing in banana peels or old coffee grounds with mulch for added nutrients. But if you're not a coffee drinker you won't miss anything by skipping this step.
If you're looking for free mulch, you could try calling around to local farms, local parks or the county landfill in your area to see if anyone might be giving some mulch away.
7. Watch the water
Plants need water to grow, that's a fact. But if you're not careful about how often you're watering, you could end up with drowned plants and a huge water bill.
When deciding what to plant, consider how much sunlight and water they'll need to thrive. Plants that have a long growing season might take a long time to yield any produce, which can mean more watering.
Also, think about the right time of day to water your plants.
A zucchini plant, for example, needs to be watered in early morning so that it has time to dry out during the day. Otherwise, mildew and wilt could take a toll. The same is true for a basil plant.
8. Get free gardening advice
Not sure how much produce you should try to grow? Wondering whether using fruit peels as mulch is a good practice?
If you have these kinds of questions, there are plenty of free resources that you can use to learn more about gardening.
Here are some of the best places to get free gardening help:
Your local garden centre (sales clerks can be surprisingly helpful in answering questions)
Local community gardens
Online gardening forums
Gardening blogs
YouTube is also a great resource for learning things like how to gauge how much food a specific square foot plot should yield, how to sprout new plants from old sweet potatoes or other root vegetables or even how to repurpose an old window into a planter.
Here are some helpful gardening YouTube channels to watch now.
Recommended Gardening Books
Are you a first-time gardener? Reading books about gardening can help beginners like you to grow healthy crops.
The following books are great for learning all about gardening. No matter if you're looking to start a garden or want to increase your knowledge about gardening, these are the books for you!
All of these books will give great advice and steps on how to start and prepare a garden!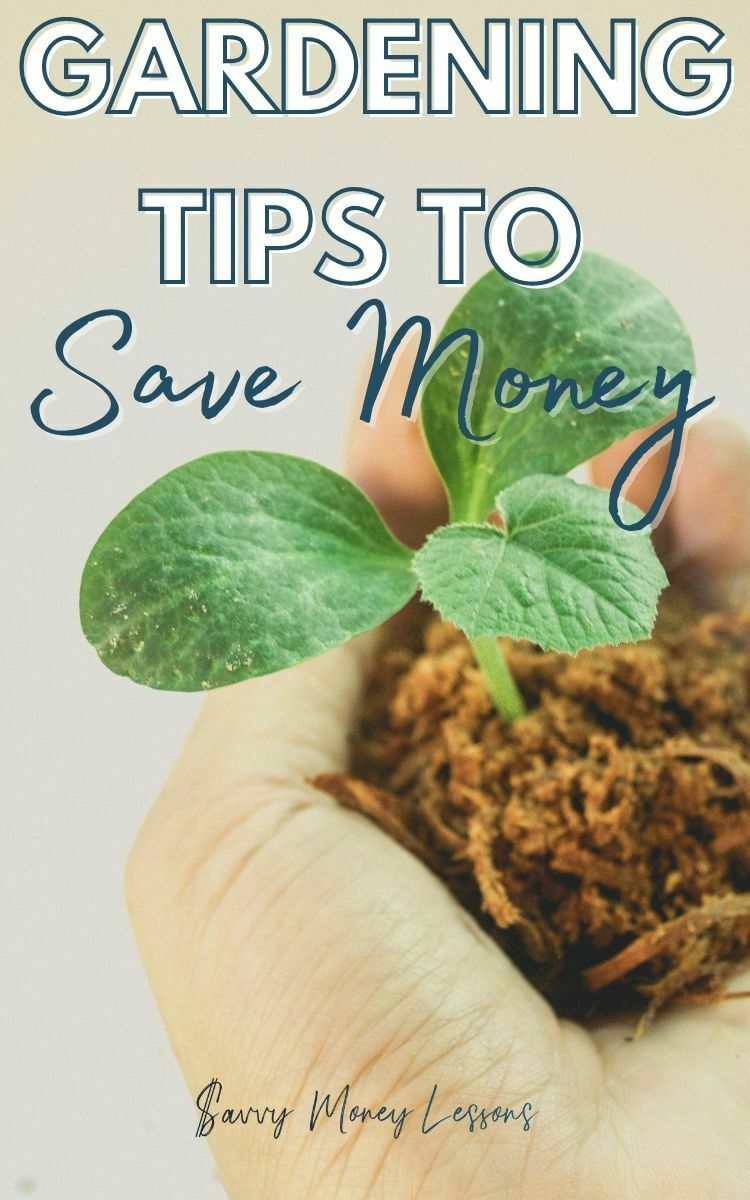 Final thoughts on gardening to save money
If you spent too much money on groceries last year and are determined not to repeat it, growing your own vegetables can be an excellent way to save. Keep in mind that there may be good years and bad years for gardening but the more that you learn, the more your skills and harvests should improve.
Need more money tips? Read these posts next:
Is your family gardening to save money? What's working for you?
About the Author
Rebecca is a certified educator in personal finance (CEPF) and a money-saving expert. As a single mom of two teens, she knows all about the importance of family budgeting and financial goal-setting. She shares her best tips about saving and managing money at Savvy Money Lessons. You can also read her work online at Bankrate, Forbes Advisor, Investopedia and other top publications. Learn more