100 Envelope Challenge Chart [Free Printable Savings Tracker!]
This post may contain affiliate links, which means I may earn a small commission if you click and make a purchase. You can read our full disclosure policy here.
Last Updated on February 6, 2023 by Rebecca
The 100-envelope savings challenge can help you add extra cash to your bank account. Using a 100 envelope challenge chart printable is a simple way to keep track of your progress with saving.
Taking a 100-day money challenge could be a good idea if you'd like to get closer to your financial goals. If you're ready to spend less money and improve your financial situation, saving money on a daily basis is a fun way to do it.
Today, we're breaking down the basics of how the 100-day money-saving envelope challenge works. Plus, you can download a free printable 100 envelope challenge chart to help kick off your savings journey!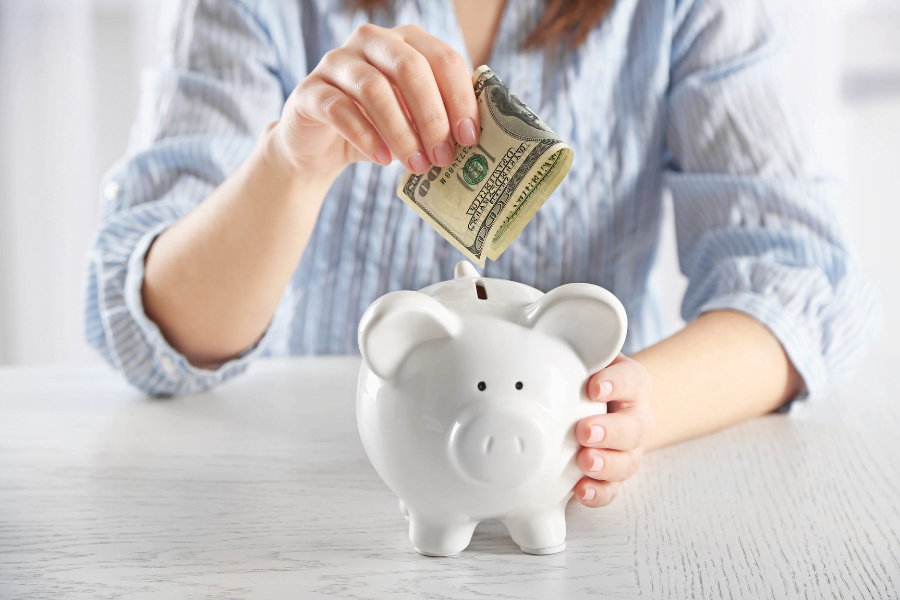 ---
What Is the 100 Envelope Savings Challenge?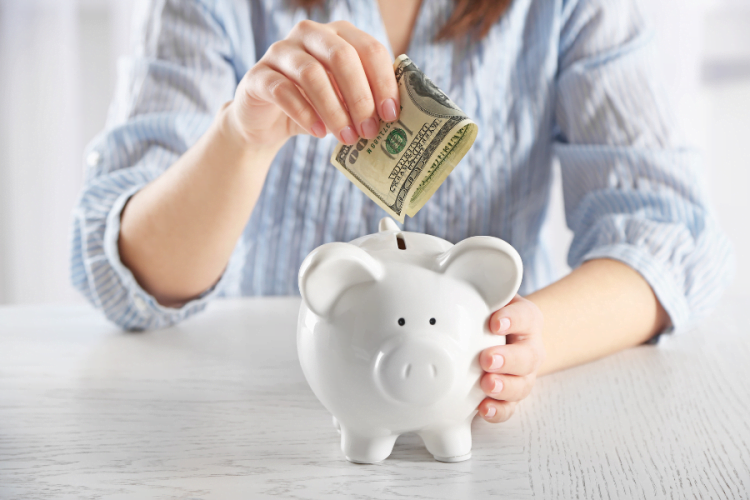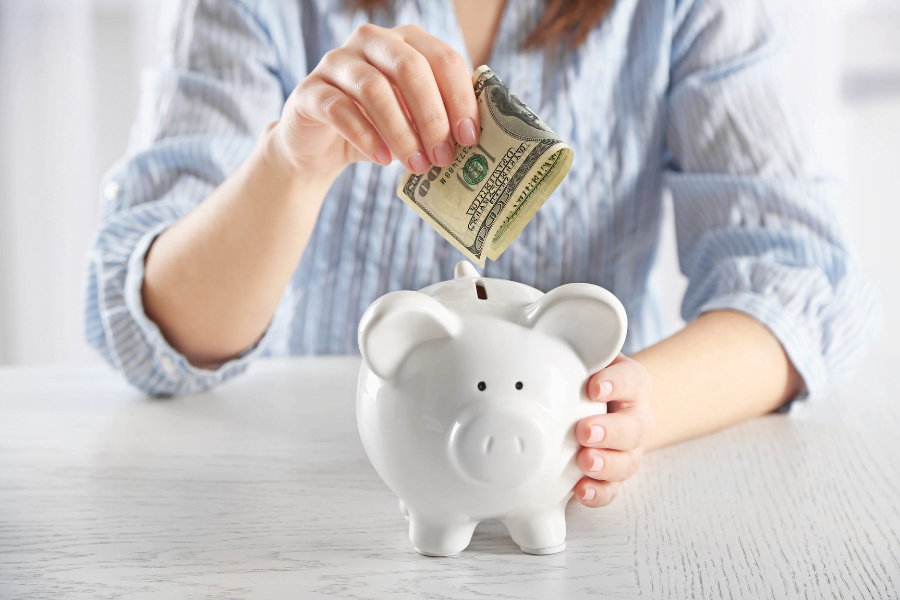 The 100 envelope savings challenge, also referred to as the 100-envelope challenge, is designed to help you save money on a daily basis over a period of 100 days. The premise is fairly simple: You fill 100 numbered envelopes with a set amount of cash each day. At the end of the challenge, you should end up with over $5,000 in cash savings.
Completing an envelope money-saving challenge can be an effective way to develop a long-term saving habit. You could use the extra cash to pay down credit card debt, boost your emergency fund or reach another financial goal.
How does the 100-day envelope challenge work?
If you've never tried an envelope money challenge before, here's how it works:
Collect 100 paper envelopes
On the front of the envelope, number them from 1 to 100
Mix up your envelopes and stash them somewhere safe
Each day, pull a random envelope from the pile
Add an amount of money equal to the envelope number
Continue the process until you have no empty envelopes left
At the end of the challenge, you should have 100 filled envelopes.
That's how the original challenge is designed to work. Tiktok users have come up with some creative variations, including doing a monthly pull or doubling up to 200 envelopes instead.
How much cash can you save with the 100 envelope challenge?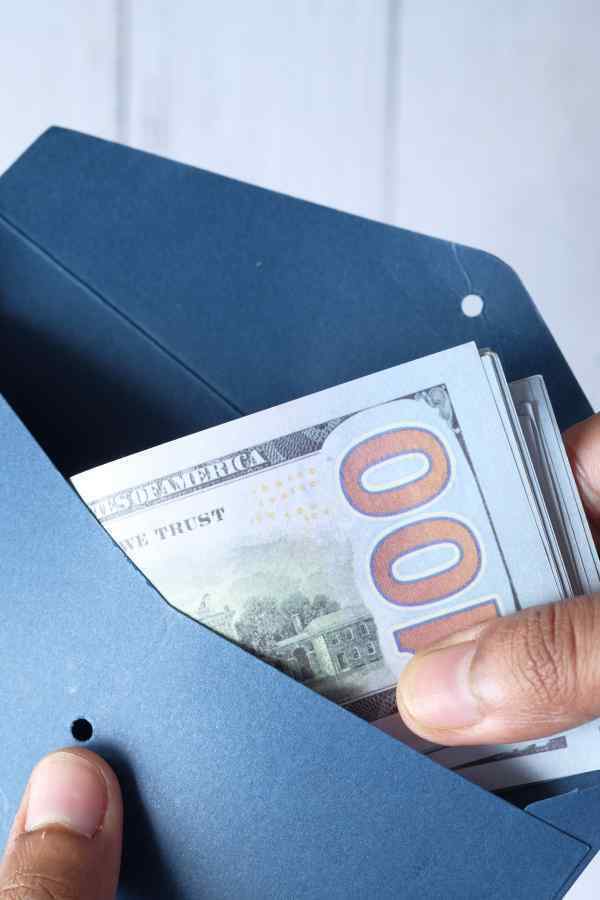 If you complete the 100 day challenge and fill all of your envelopes, you should save $5,050 in three months. That's a good amount of money you could add to your checking account or savings account. (Or a piggy bank, but you'll miss out on the chance to earn interest.)
You could potentially save $10,000 with the 100 envelope money challenge. Instead of doing 100 envelopes, you could do two sets of 100 which could lead to big savings.
That gives you 200 envelopes total, each numbered 1 to 100. If you were to fill all the envelopes over a 200-day period, you'd end up with $10,100 in savings. That's a fun way to increase your savings with a 100 day challenge variation.
How long does the 100 envelope challenge take?
If you're using the challenge as intended, you should use 1 envelope per day, meaning that this challenge will take 100 days to complete.
Of course, if you don't have a lot of spare cash, you might take longer to complete the challenge. For example, you could do a weekly pull instead and choose two envelopes per week.
You'd still save the same $5,050 but it would take you just shy of a year to finish the challenge.
Do you need to use physical envelopes?
The original challenge calls for using physical envelopes to store your daily cash savings. The idea is that by pulling and filling a daily envelope, you're reinforcing the habit of saving.
It's possible, however, to do a digital version of the 100-day money challenge.
To do that, you'd set up a separate savings account and link it to your checking account. You could choose a random number from 1 to 100 each day, then transfer that amount from checking to savings.
That would save you the trouble of having to fill a daily envelope with cash, but you'd still have to keep up with your progress. That's where using a printable 100 envelope challenge chart could come in handy. You could also keep track using an envelope challenge app like Envie.
Who is the 100-day envelope challenge right for?
Whether the 100 day envelope savings challenge is right for you can depend on your monthly income and budget, and how much money you have available to save.
The amount of cash you need to deposit will vary from day to day. That might not be an issue if you're pulling low-numbered envelopes, but that could put more strain on your budget once you get to the high numbers.
If you're not sure you'll be able to match the dollar amount required for each of your cash envelopes over a 100-day period, you could try other money-saving challenge ideas instead. For example, there's the 52-week challenge, which can help you save money on a weekly basis.
The first week, you set aside $1 in savings. The second week, you save $2. You keep going, increasing the amount of money you save each week until you end up with $1,378 for your efforts.
You won't save as much as you could with the 100 envelope challenge. But the 52 week challenge can still be a good way to set aside a little extra money. (And if you get paid every other week, you could tweak it to make it a biweekly money-saving challenge instead.)
100 Envelope Challenge Chart (Free Printable!)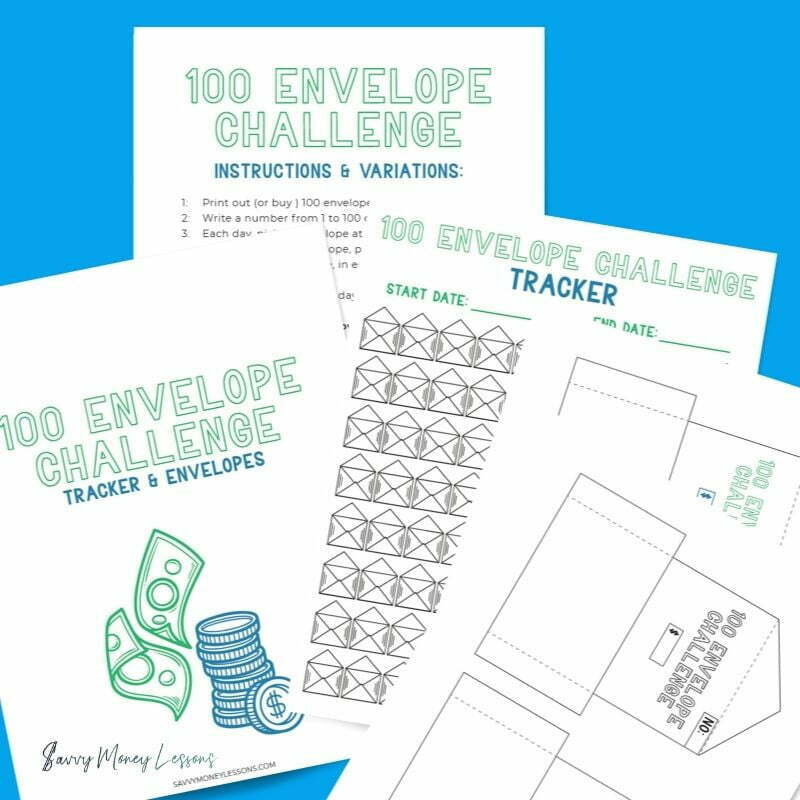 If you're interested in saving money with this fun challenge, I've got a tool that can help.
It's a free printable 100 envelope challenge savings chart. You'll get:
1 free 100 envelope challenge chart printable
2 pages of free printable savings challenge envelopes
A quick-start guide to the 100 envelope challenge
You can download and print this envelope challenge tracker in a PDF file to get your savings challenge started!
Note: Link will open in a new window. These are digital downloads, you will not be mailed a physical product.
Best Money Books to Read Now
If you're looking to improve your financial literacy, checking out books on money, saving and personal finance can be a great place to start. Reading money books written by different authors can offer you a wide range of perspectives on money management.
Here are some great money books for learning about how to budget, pay down credit cards, save, invest and grow your net worth so you can achieve financial freedom!
Tips for Saving Money
The biggest thing to remember when you're saving money is that you don't want to put a ton of pressure on yourself. It's better to take your time and figure out a plan that works for you and your budget.
The 100 envelope challenge is perfect for anyone wanting to start saving or give their existing savings a boost. Here are some different ways to grow savings during the challenge and once it's complete:
Review discretionary expenses periodically to see what unnecessary expenses you might be able to reduce or eliminate.
Consider ways to save money on household bills by reducing add-on services or features and minimizing electricity use.
Ditch eating out and plan budget-friendly meals at home.
Look for free or low-cost ways to have fun as a family, including free events in your local area or visiting the library more often.
Focus on paying down credit cards and other debts aggressively so you can free up more money in your budget to save.
Take advantage of "free" money, including employer matching contributions to your 401(k), tax refunds, rebates or bonuses.
Remember that all of these tips work best when you have a budget in place. So if you don't have a monthly spending plan yet, the first thing you'll want to do before starting a 100 day savings challenge is to make your budget.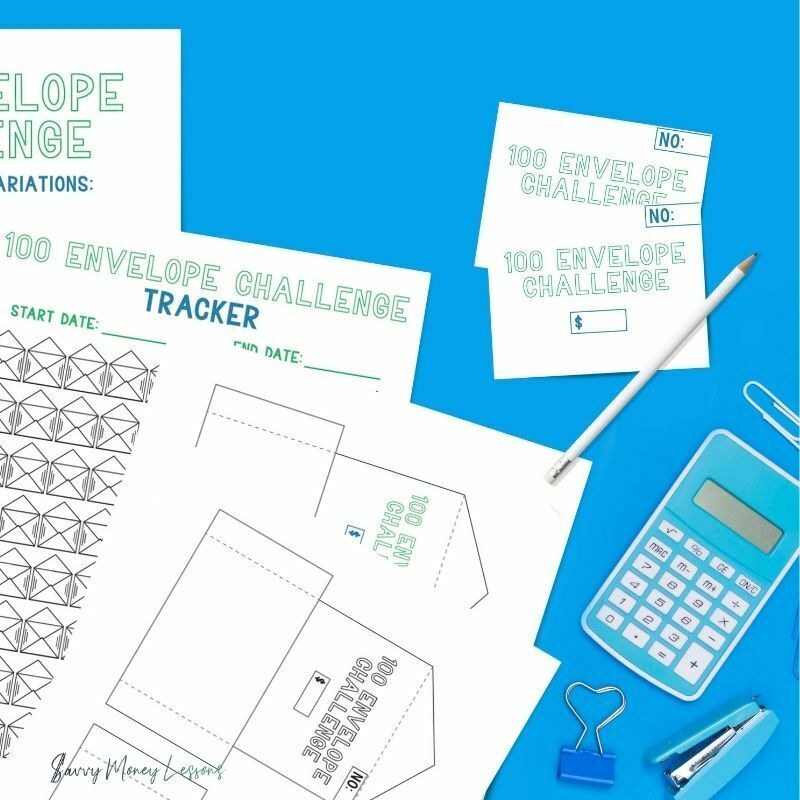 Final thoughts on the 100 envelope savings challenge
When you make up your mind that it's time to put together a savings plan, you're already one step ahead of the game. Too often, people never start a saving habit because they believe they don't have enough money or that it's simply too hard.
The 100 envelope challenge might just be the best way to build some solid savings, a little at a time. This free printable tracker makes it that much easier to stay motivated and focused on your savings goals.
Need more money tips? Read these posts next:
How will you use this 100 envelope challenge chart to save money?
About the Author
Rebecca is a certified educator in personal finance (CEPF) and a money-saving expert. As a single mom of two teens, she knows all about the importance of family budgeting and financial goal-setting. She shares her best tips about saving and managing money at Savvy Money Lessons. You can also read her work online at Bankrate, Forbes Advisor, Investopedia and other top publications. Learn more