15 Smart Ways to Save Money on Toys
This post may contain affiliate links, which means I may earn a small commission if you click and make a purchase. You can read our full disclosure policy here.
Last Updated on June 25, 2023 by Rebecca
Let's face it. Buying kids' toys can be really expensive, especially if you're picking up toys for birthdays, holidays or other special occasions.
And sometimes, even small toy purchases can add up. You might be out shopping and decide to pick up an extra toy to surprise your child for getting good grades or as a reward for doing extra chores.
You don't have to overspend on those. There are so many ways to save money on toys. Here are some of my favorite tips for saving money on toys during the holidays and all year-round.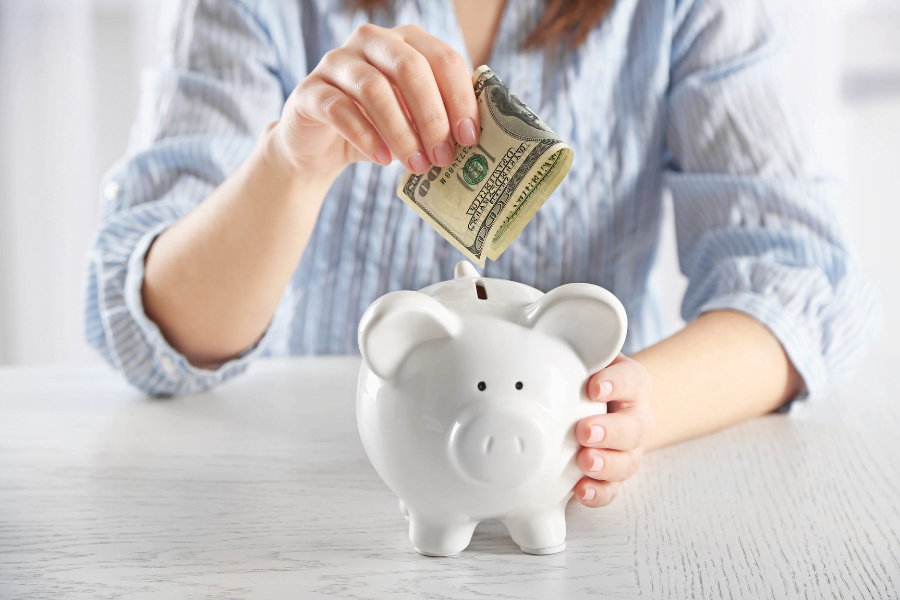 ---
Table of Contents
Best Ways to Save Money on Toys
While some toys don't cost a lot of money, others come with a steep price tag. And if you're a family on a budget, it's maddening to think that you're going to be spending a ton of money on toys that might not be played with for that long.
Finding ways to save money on toys is a no-brainer. And the good news is that there are lots of ways to cut down on what you spend when buying toys, for your own kids or someone else's if you're shopping for gifts.
1. Buy fewer toys
The first and simplest way to save money on toys is to buy less of them.
Buying your kids fewer toys can mean less strain on your budget. And research has shown that kids actually benefit from have fewer toys to play with.
Without a bunch of "stuff" cluttering up their rooms (and your home), kids become more creative. They develop better cognitive skills and tend to be more engaged with the toys that they do have.
If you've gone overboard with buying toys in the past, consider imposing a limit on toys going forward. For example, you could purchase a six-unit storage cube for each child and limit them to one toy per shelf.
Ready to start saving? Try the 100 Envelope Savings Challenge and discover that saving money is easier than you think!
2. Invest in quality toys
Spending a little more on quality items might seem counterintuitive if you're trying to save money on toys. But there's actually a benefit to this approach.
Purchasing toys that are made to last means they're less likely to break or wear out. If you have multiple kids, you might be able to pass them down and stretch their life even further.
A set of simple wooden blocks, for example, can provide hours of fun for kids. And they're durable enough that you don't have to worry about anything getting broken.
3. Buy previously loved toys
Buying gently used items is a smart way to save money on toys when you're on a tight budget.
You can find toys that are still in good condition at consignment shops, eBay, Facebook Marketplace and local Facebook bargain groups. You can also try Craigslist or local kids' specialty stores to find deals on used toys.
Just remember to compare the seller's asking price to the item's retail price to make sure you're actually saving money.
4. Hunt for thrift store treasures
Thrift stores are the perfect place to find toys, books, games and kids' clothing at cheap prices. And shopping at a thrift store for toys can be a fun way to spend the day as a family.
For instance, you can plan a Saturday treasure hunt and give each child a set amount of money. You can then challenge them to see how many toys they can get for that amount.
That can make thrift store shopping for toys more fun. And it's a chance to teach kids some important money lessons about spending.
5. Check out local yard sales
Yard sales are another great option when you want to save money on toys.
Spring and summer are usually a great time to find bargains on toys. And plenty of people advertise their yard sales on Facebook, which is a good way to scope out items beforehand without having to drive all over time.
You can also look for special yard sale events in your area. For example, a neighborhood garage sale that includes multiple houses might be the perfect spot to find toys for cheap.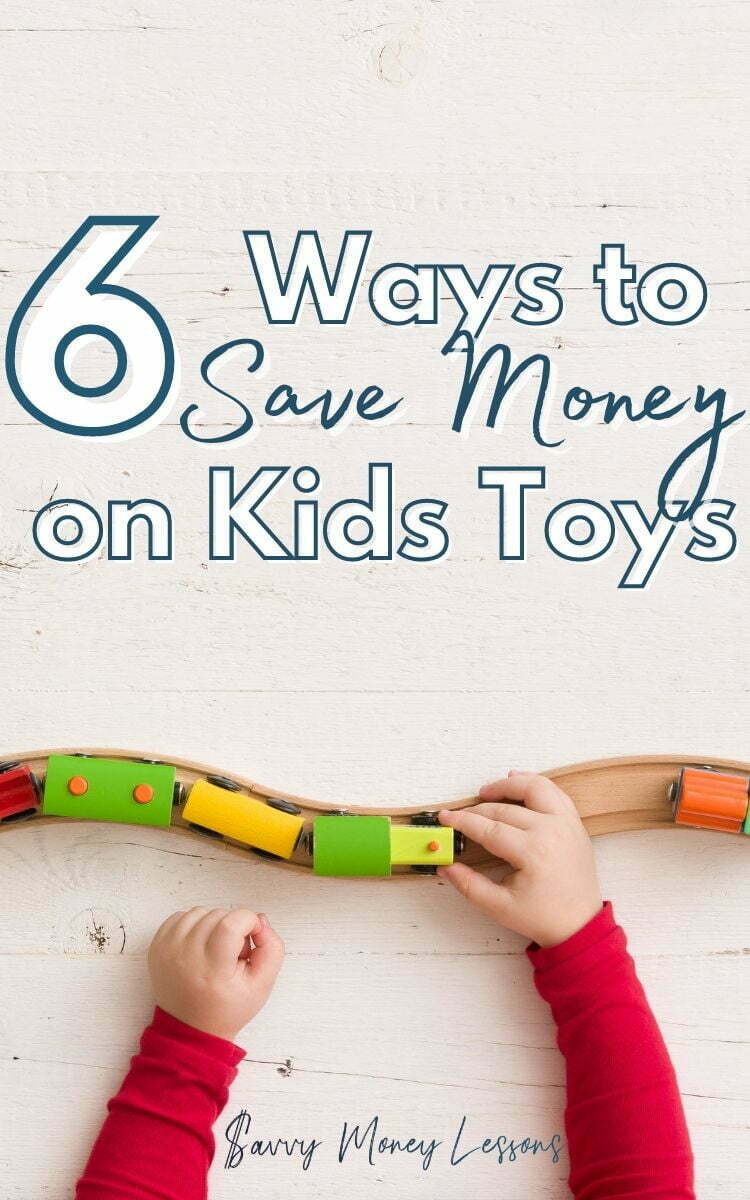 6. Shop for toys at dollar stores
Dollar stores can offer low prices on plenty of items, including kids' toys.
Are these toys the best quality? Not necessarily. I've purchased plenty of toys for my kids from Dollar Tree and Dollar General and some have definitely lasted longer than others.
But shopping at dollar stores for toys is still worth it if you to pick something up quickly, without spending a lot of money. If you're trying to throw a birthday party on a budget, for example, then you can pick up some cheap toys to give out as party favors.
Grow your money faster! Want to get a great rate on your savings? Open a high-yield savings account to earn the most competitive APY on deposits.
7. Cruise the clearance section
Another great way to save money on toys that might normally be out of your budget is to hit the clearance section. Stores are always needing more space for the latest and greatest toys, so they mark down existing inventory to make room.
One of the best times to shop for toys on clearance is right before the holiday rush and right after.
Before the holiday shopping season starts, stores will be trying to move out older toys to make room for the hottest sellers. Depending on where you shop, you might find markdowns on everything from dolls to Lego sets to toddler toys.
Once the holidays are over, stores usually have a second wave of markdowns to try and get rid of overstocked items. That could be an opportunity to get your hands on some trendy toys for less if they end up on clearance.
8. Check out the dollar spot
Target's Dollar Spot is often a mishmash of different items, but it's possible to find toys here or arts and craft supplies for kids on the cheap.
Here's a tip for shopping the Dollar Spot: keep seasonality in mind. Target stocks the Dollar Spot with a variety of items all year long, but they tend to be seasonal in nature.
So, in summer you may see bargains for things like sidewalk chalk, jump ropes or yo-yos. During the back-to-school season, on the other hand, you might find deals on stickers or art sets.
9. Use free gift cards to buy toys
Gift cards are great for buying kids toys without having to spend a dime. If you get a gift card for your birthday or Christmas, for example, you might use it to buy toys if there's nothing you really need or want to buy for yourself.
You can also earn gift cards by doing simple tasks online. You can then use those free gift cards to shop for toys or anything else you might want to buy!
Two of my favorite sites for getting gift cards for nothing are Survey Junkie and Swagbucks. I've earned a few thousand dollars in cash and gift cards from both sites just for sharing my opinion and answering questions.
Get started earning gift cards with Survey Junkie! Or sign up for Swagbucks and get a $5 bonus!
10. Use cash-back apps to save money on toys
Cashback apps put money back in your pocket when you shop at participating stores.
Rakuten, for example, pays up to 40% cashback. All you have to do is join Rakuten (it's free), link your debit card or credit card and shop like you normally would.
If you shop an offer from a partner merchant, Rakuten credits you with cash back for your purchase. You can even earn bonus cash for signing up and for referring friends and family.
Join Rakuten and get $10 in bonus cash on your first purchase!
11. Host a toy swap
If you're friends with some other families who have kids of a similar age, you could arrange a toy swap.
A toy swap lets you trade out toys your kids no longer play with for ones that are new to them. For example, if your 8-year-old son has outgrown their Thomas the Train playset, you might trade it to another family who has some Legos they're hoping to get rid of.
Toy swaps are great because you can find some real treasures and best of all, you don't have to spend any money.
12. Shop sales
It should go without saying but one of the easiest ways to save money on toys is to simply wait and buy them when they're on sale.
The biggest sale season for kids is obviously during the holidays. But you can also find bargains at other times of the year.
Keeping an eye on sales circulars can help you learn how the sales cycle works at different stores. Once you know when you can expect certain toys to go on sale, you can plan your purchases.
13. Look for freebies and giveaways
Finding ways to get toys for free can be a real money-saver if you're on an extremely tight budget.
Some of the best ways to find free toys locally is to check Facebook or Craigslist. I routinely see people giving away toys, bikes and kids' clothes on my local Facebook bargains group simply because mom or dad just needs to get rid of them and clear up the clutter.
You can also look for toy giveaways through local churches or nonprofit organizations. In our area, for example, there are multiple giveaways designed to help families in need get their kids toys for Christmas.
That can be extremely helpful if you're struggling financially. And if you're reluctant about accepting this type of help, just remember that you can pay it forward to another family once your finances are back on track.
14. Search out coupons
Clipping coupons can save money on groceries but you can also use them to cut costs on toys.
Sites like RetailMeNot and CouponCabin are great for finding digital coupon codes that you can apply at checkout when shopping online. You can even use them along with Rakuten or another cashback app to multiply your savings.
If you regularly shop for toys on Amazon, you'll also want to snag the Honey browser extension. Honey automatically scans items to find the best deals and you can set up a watchlist of toys to get alerted when their price drops on Amazon.
15. Encourage kids to save up for their own toys
If there's a special toy your child is dying to have, another simple way to save money is to have them save up for themselves.
This is a great opportunity to teach kids the importance of saving, goal-setting and how to work toward their goals. My son, for example, saved up his birthday and Christmas money to buy an Xbox when he was nine and it was a great feeling seeing him learn to appreciate the value of a dollar.
If you're trying to raise money-savvy kids, encouraging them to save for a special toy is a good starting point. From there, you can branch out to teach them about budgeting and how to make money as a kid.
Pro tip: Budgeting isn't just for teens and families. Even younger kids can try making a needs/want budget of their own to learn basic money skills!
Recommended Books for Teaching Kids About Money
Instead of buying kids toys, you could gift them a book instead.
Books about money are an especially great gift for kids and teens who want to learn the basics of saving, spending and budgeting. Here are a few of my favorite recommendations for money books for kids.
Final Thoughts on How to Save Money on Toys
Buying toys can quickly eat a hole in your budget and finding ways to save money can make those purchases less burdensome. At the end of the day, it's important to remember that showering kids with toys isn't really necessary–and it could do more harm than good. Creating a toy budget and using some of the money-saving tips listed here can help you stay in good shape financially and avoid junking up your home with unnecessary stuff.
Need more money tips? Read these posts next:
What are your favorite ways to save money on toys?
About the Author
Rebecca is a certified educator in personal finance (CEPF) and a money-saving expert. As a single mom of two teens, she knows all about the importance of family budgeting and financial goal-setting. She shares her best tips about saving and managing money at Savvy Money Lessons. You can also read her work online at Bankrate, Forbes Advisor, Investopedia and other top publications. Learn more