15 Ways for Teens to Make Money
This post may contain affiliate links, which means I may earn a small commission if you click and make a purchase. You can read our full disclosure policy here.
Last Updated on March 25, 2023 by Rebecca
If your teen isn't ready for a part-time job, there are great ways for teens to make money. It might be mowing lawns or running errands. Either way, he can earn the money he needs for play money or even college by doing simple tasks. Let's take a closer look at ways for teens to make money.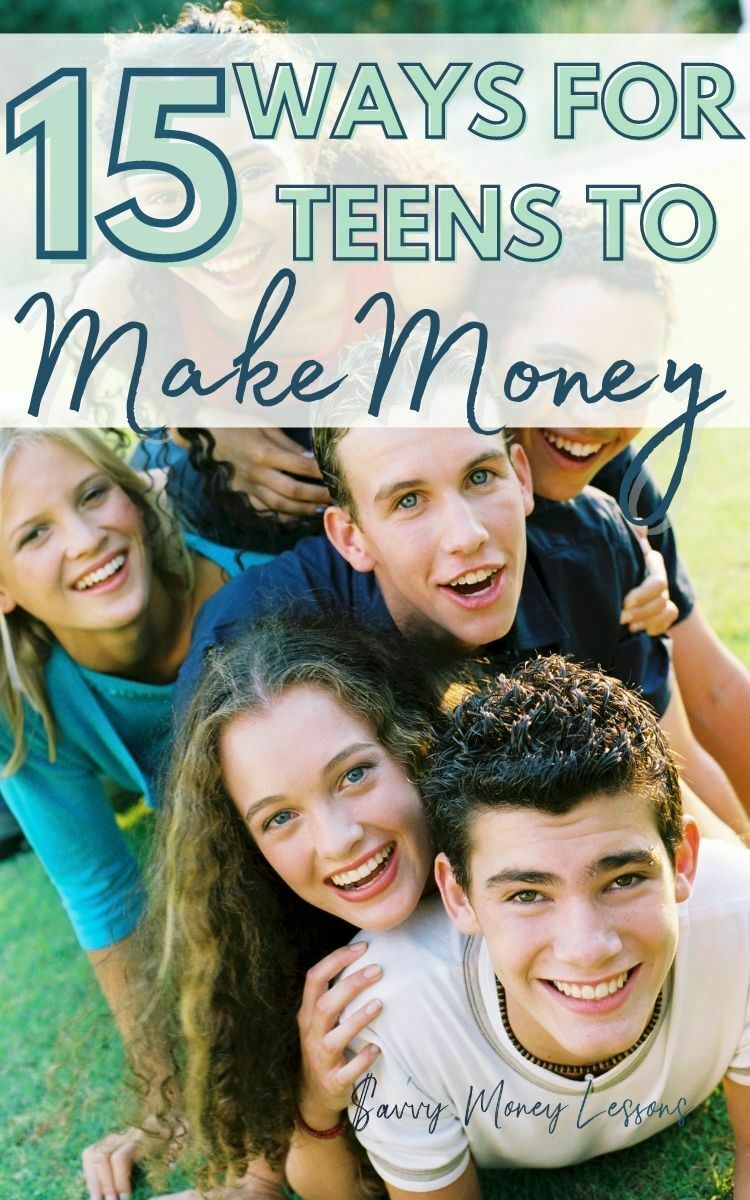 Recommended Books for Young Entrepreneurs
These books are perfect for kids who want to start a business early. They'll be motivated and packed with knowledge about the world of entrepreneurship.
Ways for Teens to Make Money
If you want to teach your children about earning money, your kids are going to need a job. While you can have your children do chores around the house, they can also do other odd jobs to earn money. It might be delivering papers or even having a yard sale.
1. Lawn Care
Teens have been mowing lawns for decades. Mowing lawns can result in at least $20 per lawn. If he can weed eat, that's another $20 per lawn. This can be really good money. Other lawn care jobs include weeding, tending to flower gardens, pruning trees and bushes, and fertilizing lawns. This is a job where word-of-mouth can also help build his business very quickly.
2. Graphic Design
If your teen is good at graphic design, she can make a lot of money designing for local companies. It might be designing the Facebook cover for the company's business page or even creating a logo. These jobs can be very profitable. The more creative she is, the more money she can make. She can even create designs for products that she sells through CafePress or Spreadshirt.
3. Website Design
Teens who love to delve into code may want to consider website design or development. With so much time being spent online, set them up to learn some coding, computers aren't going anywhere. Once they have a basic understanding, they may want to start a blog or website or their own. Once they do this they may be able to set things up for others as well.
4. Sell Crafts
Teens that love to do crafts can also make money. These crafts can be sold at local craft fairs or online through companies like Etsy. The key is to have several pieces available for sell before opening an online shop. If the products are selling, she can continue to make more so that she always has stock on hand.
5. Pet or Babysitting
Another great money maker is pet or babysitting. Your teen may babysit for a family friend's child for a couple hours each day or watch his dog for the weekend. If your teen is good with pets and kids, this is a great way for him to make money.
6. Yard Sales
Chances are your teen has more junk than she knows what to do with. A yard sale is a great way for her to make a lot of money in a short period of time. If she has more expensive pieces, she can sell them through Facebook yard sale groups or on the letgo app.
7. Running Errands
Last, but not least, running errands is another great way for teens to make money. It might be shopping for groceries for an elderly neighbor or taking packages to the post office for shipping. There are so many little errands that people hate doing that teens can do for extra pocket money.
8. Social Media Marketer
If you have a teen who loves social media, have them put those skills to use for others. Local businesses or non-profits may not have a social presence and your teen may know tons about how to grow their Instagram or Twitter accounts. Have them reach out to see what they can help them with.
9. Sell Used Items
Have them gather up any unused items from your home like old video games, books, movies, jewelry, gadgets or collectibles no one wants, you never know what people may buy. List them online like on Kijiji or Craigslist with your permission of course. I'd use an email that you have access to as well.
10. Tutor
If your child excels in a particular subject or subjects, have them tutor other students or younger children. If they really understand the material they would make a wonderful teacher which would also reinforce that material as well.
Recommended Books on Teaching Kids About Money
Check out these books about money that will teach kids the basics about earning money, saving and being successful in the future.
11. Baker
Does your teen enjoy baking? Take those cupcakes creating skills and have them bake the treats for the next family event. Then see if they can be the one to prepare birthday cakes and dessert, then you can transfer those skills to bake sales and catering events. Which teen doesn't love a party?
12. Delivering Papers
Delivering papers has been one of the most popular ways for kids to earn money for well over a century. Your children can deliver papers on their bikes or you can drive them around the neighborhood. However, it really helps teach children responsibility if they have to get up and do the job on their own.
13. Having a Yard Sale
Another easy way for your kids to earn money is to host a yard sale. Your children can be in charge of gathering the items they want to sell, organizing them in the yard on tables or sheets, and making signs to advertise the sale and give directions. You can help your children by placing an ad in the local paper and on Facebook yard sale groups.
14. Create an Online Store
If your children love to do crafts, get them a booth at the flea market or list the items for sell on Etsy. The key is for your children to have several pieces ready to sell so that their time at the flea market is well spent. An Etsy shop is also much more successful when you have several items listed.
15. Pet Sitting
Last, but not least, teens can make money by walking dogs or pet sitting. It's a great way for your children to get exercise and for you to determine if your children are ready for their own pet if they've been asking for one. And if they can't have one, it's a wonderful way for them to spend time with pets to see the amount of responsibility that goes along with it.
Your teen doesn't have to get a part-time job to make money. There are so many ways for her to make money. Whether she has a yard sale or babysits the neighbor's kids, she can make some good money doing odd jobs.
More Money Making Ideas for Kids and Teens
How to Make Money Without a Job for Teens
Jobs for 10 Year Olds to Make Money
Jobs for 12 Year Olds to Make Money
About the Author
Rebecca is a certified educator in personal finance (CEPF) and a money-saving expert. As a single mom of two teens, she knows all about the importance of family budgeting and financial goal-setting. She shares her best tips about saving and managing money at Savvy Money Lessons. You can also read her work online at Bankrate, Forbes Advisor, Investopedia and other top publications. Learn more