Fun Jobs for 10 Year Olds to Make Money That Pay! [2023]
This post may contain affiliate links, which means I may earn a small commission if you click and make a purchase. You can read our full disclosure policy here.
Last Updated on March 5, 2023 by Rebecca
Are you looking for a few ideas on jobs for 10 year olds to make money?
This list will help you think of some great options!
After all, who doesn't want their kid to learn about making money? When you have a 10 year old, this is a great time for your child to learn about money and even earn some extra cash.
The best way to teach your 10 year old about money is to help them make it! Once kids have cash in their hands, you can show them how to spend, save, and give.
Some of the best jobs for 10 year olds are ones they can do around the house, like helping with yardwork or doing laundry. It's also possible for young kids to make money with their own business.
Ready to help your 10 year old learn the value of a dollar while developing a good work ethic? Keep reading for a list of fun job ideas for 10 year olds!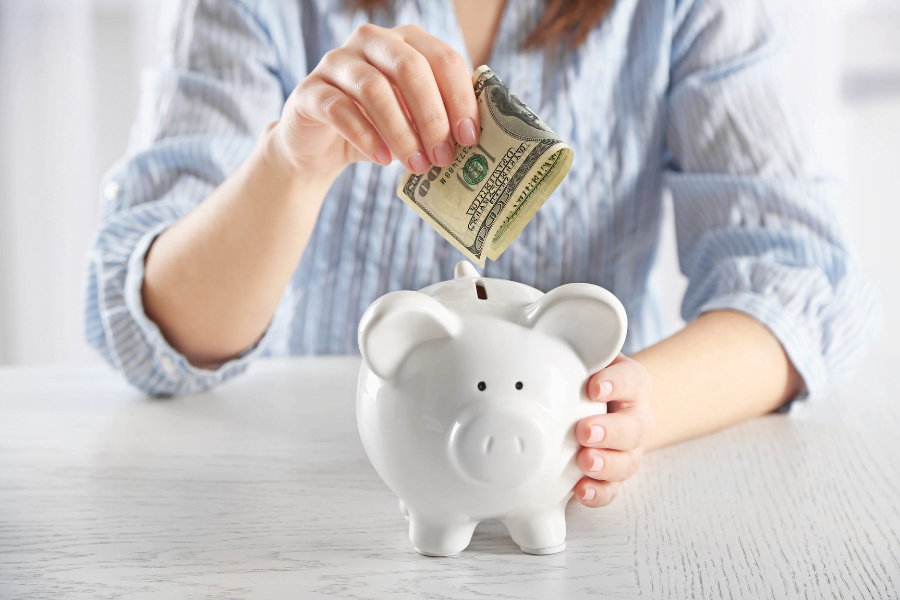 Jobs for 10 Year Olds to Make Money
Helping your 10 year old learn how to make their own money can foster a culture of hard work. Showing them how to manage the money they earn can set them up for financial success as adults.
How much money can a 10 year old make with a job? It really depends on the job and in some cases, how much time they're able top put in.
With that in mind, here are some of the best jobs for 10 year olds to make money.
1. Babysitting
Babysitting is often the first job many kids have and maybe you babysat as a child yourself. Being a babysitter can be a perfect way for a ten-year-old to make extra money in their spare time.
At this age, a 10 year old girl (or boy) could make money babysitting for younger siblings or next-door neighbors after school hours and on weekends. Once they get some work experience under their belt, they could branch out to offer babysitting services to friends and family members.
On average, the typical hourly rate to babysit one child is $$22.68, according to UrbanSitter. That could add up to a lot of money for a 10 year old if they're babysitting a few days a week!
Pro tip: Once your child turns 11, they can take a babysitter training course at your local Red Cross to hone their childcare skills.
2. Landscaping/yard work
Doing yard work or landscaping work is another good way job for 10 year olds to make money and spend some time outdoors.
There are lots of ways 10 year olds can make money with yard work or landscaping, including:
Picking up sticks or pine cones
Weeding flower beds
Spreading mulch
Raking leaves
Weed-eating
Planting flower bulbs
Trimming hedges
This type of work could be ideal for a 10 year old who dreams of starting their own landscaping or lawn care business someday.
3. Snow removal
Looking for some side hustles kids can do in winter?
If you live in an area that sees its fair share of snow, that's a great opportunity for a 10 year old to make extra cash!
Some of the best jobs for 10 years old to make money in winter include:
Shoveling snow
Scraping ice from car windows
Salting sidewalks
Kids will of course need a sturdy snow shovel, gloves and appropriate winter clothing. And they'll need to understand that shoveling snow can be hard work!
But otherwise, this could be a low-cost winter business for a 10 year old to start.
4. Pet sitter
If you have a responsible 10 year old, then pet sitting may be right up their alley on the list of things they can do to make money.
Dog owners (and cat owners) may be willing to pay your 10 year old to watch their pets while they're away on vacation. This could also be a great summer job if your neighbors need someone to keep an eye on their pets while they're at work during the day.
Kids will need to know how to take care of the animals they're watching, which may be as simple as knowing how to fill up food and water dishes. Pet sitting could be a relatively easy job for a 10 year old who's a pet lover.
5. Pick up dog poop
Your ten year old may not love this job idea too much, but it's worth a shot. If he/she really wants to make some money, then picking up dog poop for the neighbor is always a great idea.
No one likes picking up their dog's mess. Cleaning out kitty litter boxes is also an option if there is no dog poop to be found to scoop up.
You'll need to get them a good pooper scooper and dog waste bags, but otherwise, this side job for 10 year olds doesn't require a lot of money to start.
6. Dog walker
Dog walking is another great option for kids who love animals and don't mind spending time outside.
Walking dogs is a relatively simple job and a fun way to make money. If you have dogs at home, you can help your 10 year old practice walking them around the neighborhood.
Once they're feeling confident in their dog walking skills, you can help them find the first "clients" for their business.
For example, you can send out a post on Facebook letting friends and family members know your child is offering dog walking services. Or you can go door to door in your neighborhood to see if any pet owners might need help exercising their four-legged friends.
7. Neighbor's helper
Becoming a neighbor's helper is one of the best jobs for 10 year olds to make money close to home.
A neighbor's helper could make money doing simple tasks like:
Collecting mail
Taking out garbage cans and bringing them back in
Sweeping sidewalks
Unloading groceries
If you have elderly neighbors, they might appreciate having a helping hand. One of the best parts about this type of job is that's a great opportunity for young people to connect with the older generation.
8. Paper route
Having had a paper route as a kid, I can vouch that this is still a way for a 10 year old to make money.
You'll need to check state and local laws to find out if 10 year olds are allowed to have a paper route in your area. In California, for example, paper delivery persons must be at least 12 years old.
But if 10 isn't too young to start a paper route where you live, you can reach out to your local newspaper office to find out how to get your child started.
9. Lemonade stand
A lemonade stand might sound old-fashioned but it's still one of the best jobs for 10 year olds to make money.
Your ten year old can set up a lemonade stand in your neighborhood and sell to your neighbors or people passing by walking their dogs. In terms of what you'll need to help your child start a lemonade stand, the list includes:
Lemons, sugar, honey and other ingredients (here's a delicious lemonade recipe!)
A pitcher or cooler to hold the lemonade
Cute cups to serve the lemonade in
A cash box to collect the money they're making
A table to hold their supplies and a chair to sit in
You can work together to make signs advertising the lemonade stand and hang them around the neighborhood, or tell people about it on Facebook. If you live in a development that has an HOA, be sure to check the rules on selling lemonade from your driveway or on the sidewalk.
10. Sell baked goods
Got a 10 year old boy or girl who loves baking? Selling their baked goods could be an easy way for them to make money.
They could host a bake sale from the driveway or set up a booth at a local farmer's market. They might even be able to have their baked treats sold in local coffee shops or bakeries.
If you don't have a good baking set on hand at home, you might need to invest a little money in buying one. Once your 10 year old has the basic supplies they can get to work experimenting with cupcakes, donuts and other delicious baked goods!
11. Dog treat business
Baking dog treats can be big business for adults, but it's also a great business idea for a 10 year old kid who loves animals.
You'll need some cute dog treat baking molds and pet-friendly ingredients to get your child started. And if you're stuck for ideas on what to make, check out this list of pet-friendly dog treats you can make at home!
12. Start a YouTube channel
If you've got a 10 year old who's interested in online jobs they can do to make money, you might suggest a YouTube channel.
YouTube can be a fun way for kids to make extra cash at an early age while learning valuable skills like content creation, video editing and marketing.
Toy testing is a highly profitable niche for child YouTubers but your 10 year old might be interested in something totally different. For example, they might decide to base their channel around playing video games or crafting.
Keep in mind that YouTube terms of service prohibit kids under 13 from setting up their own channel so they'll need your help to get started.
13. Start a blog
Blogging might not come to mind immediately when thinking about jobs for 10 year olds to make money. But starting a blog is something your child might want to do if they love to write.
You don't need a lot to get started blogging either, other than a laptop and an internet connection.
You'll also need to get your child set up with blog hosting, which you can do for under $10 with Siteground.
14. Flipping or reselling
Flipping and reselling are two other good jobs for 10 years old to make money who know how to pick out a bargain.
Flippers make money by buying things for little money or getting them free, then reselling them for a profit.
For example, your child might have some old toys they no longer play with. They could sell them for quick cash.
Some of the places a 10 year old can sell things for money include:
Garage sales
Yard sales
Craigslist
eBay
Facebook Marketplace
Facebook bargain groups
Those are also places where you can find trash that can be turned treasures to resell.
You can also check out local places to sell used items, like consignment shops, comic book stores and collectible shops. My teen daughter recently made a little over $300 selling some of her manga and Funko Pop collection to a local comic book store.
15. Gardener
Does your 10 year old have a green thumb? If so, they might be able to make money by growing a garden and selling their fresh veggies to friends, family members, neighbors or visitors to your local farmer's market.
If you don't have a patch of land to dedicate to a garden, you could invest in a few standing beds that could fit on your back porch. All they'll need after that are some seeds, soil and gardening tools to get started.
16. Face painter
If your 10 year old has an artistic side they could make money as a face painter.
For example, they might hire themselves out to families who need a face painter for birthday parties. They'll have fun painting faces and showcasing their art skills while making money. And the kids getting their faces painted will love this special treat!
17. Gift wrapper
During the holiday season, people are busy trying to cross all of the things off their to-do list. And one chore they might be willing to outsource to your child is wrapping gifts.
This is a fun job for 10 year olds to make money that they can do from home. All they'll need to get started are the basics: Gift wrap, scissors and tape.
And if their holiday gift wrapping business takes off, they could offer their services for other special occasions throughout the year.
Can a 10 Year Old Get a Job?
The Fair Labor Standards Act sets the guidelines for child labor laws in the United States. Under federal law, kids must generally be at least 14 to get most jobs. State law may set the minimum age even higher.
That means that younger children typically can't get traditional jobs. But there are still plenty of jobs for 10 year olds to make money out there.
You might even be able to give your 10 year old child a job yourself if you run a small business. Federal law allows parents to employ children in a family business, without age restrictions.
Depending on what type of business you run, they might be able to learn a variety of skills, including:
Time management
Customer service
Accounting or bookkeeping
Writing or blogging
Managing social media accounts
Video editing
Looking for job opportunities in your business that a 10 year old could do can help them get familiar with the world of work, even if they're not able to get a job in the real world yet.
Jobs for 10 Year Olds to Make Money FAQs
What types of jobs can a 10 year old get?
A 10 year old might not be able to get a traditional part-time job but they can still make money doing odd jobs around the house or by starting their own small business. Some of the best jobs for 10 year olds to make money include dog walking, pet-sitting and babysitting.
Is it a good idea for a 10 year old to have a job?
Encouraging your 10 year old to find ways to make money is a good thing, since it can teach them some valuable financial concepts. Not only can they make additional money so they don't have to ask you for cash all the time, they can learn things like how to budget money and how to save it toward their financial goals. That's a good reason to consider helping your 10 year old find a job.
What are some good jobs for young teens?
Young teens 13 and up may be able to make money doing a variety of jobs online or off. For example, they could get paid to take surveys with Survey Junkie or sign up to be a video game tester. Older kids and high school students might sign up to be a counselor for a local summer camp or work at grocery store as a cashier or bagger. The good news is there are tons of ways for kids to make money at practically any age.
Recommended Books About Earning Money for Kids
It's good to teach kids about money and how to earn it. By doing so, they'll grow up knowing the importance of saving money or spending it wisely. If you're looking for some money management resources for kids, these books could be a great introduction to the topic.
Final thoughts on the best jobs for 10 year olds to make money
At 10 years of age, your kids might be ready to start making money of their own. Doing simple tasks around the house or for people in your neighborhood can be a great way for a 10 year old to make extra pocket money. Some of the ideas on this list of jobs can be adapted for younger kids who want to make money or older teens who are ready to start a business or side hustle.
Not sure which job idea to try first? Talking to your 10 year old about what they're interested in and what they're good at can be a good way to help them find the perfect job for them.
Need more money tips? Read these posts next:
Which jobs for 10 year olds will your kids try?
About the Author
Rebecca is a certified educator in personal finance (CEPF) and a money-saving expert. As a single mom of two teens, she knows all about the importance of family budgeting and financial goal-setting. She shares her best tips about saving and managing money at Savvy Money Lessons. You can also read her work online at Bankrate, Forbes Advisor, Investopedia and other top publications. Learn more