Jobs for 12 Year Olds to Make Money [Best Jobs for 12 Year Olds That Pay!]
This post may contain affiliate links, which means I may earn a small commission if you click and make a purchase. You can read our full disclosure policy here.
Last Updated on September 4, 2023 by Rebecca
Got a tween who's looking for a way to make some extra money?
While child labor laws set the minimum age to get hired for most jobs at 14, there are still plenty of jobs for 12 year olds to make money. Some of the best ways for a 12-year-old child to make their own money include doing simple tasks around the house, dog walking and babysitting for younger siblings.
Even though young kids may not make as much as a regular job out in the world, they can still make money for themselves while learning some valuable skills. Finding jobs for 12 year olds that pay can also be a good way for kids to learn the value of a dollar and the importance of saving money.
Today, we're sharing some of the best jobs for 12 year olds if you want to help your kids gain work experience while making a little extra cash.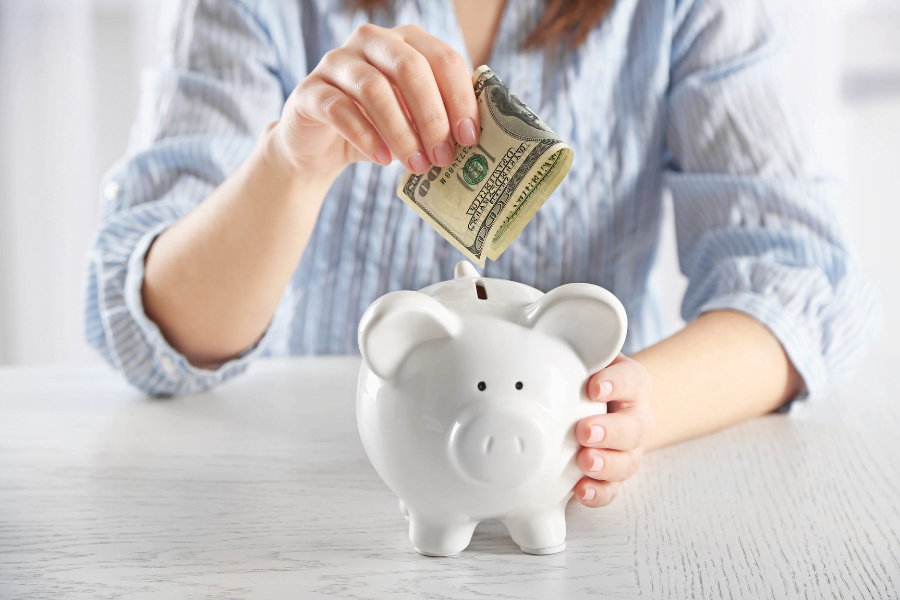 Table of Contents
Jobs for 12 Year Olds to Make Money
The Fair Labor Standards Act establishes the age requirements for youth employment in the United States.
The minimum age requirement for employment of minors in most traditional jobs is 14 to 15 years old. Federal law also caps the number of hours young adults can work. State law can impose different rules, depending on where you live.
That means if you have a 12 year old boy or girl who's anxious to start making money, you'll need to get a little creative. The good news is that it's possible to help younger children find a great job they can do in their extra time to make money.
Here are 22 legitimate jobs for 12 year olds to make money.
1. Babysitting for friends and family members
Babysitting can be one of the best jobs for 12 year olds to make money if your kids are comfortable caring for young children. And of course, they'll need to be responsible.
This type of job can sometimes be hard work but kids can make good money doing it. The national average babysitting rate for one child is $22.68 per hour, according to Urban Sitter, which is a significant step up from minimum wage.
It might be helpful to have your child take a babysitting course or first aid class to prepare for their first babysitting job.
You can check with your local community college, Red Cross chapter, YMCA or YWCA to find first aid and babysitting classes. If your child is a Boy Scout or Girl Scout, they may have already completed CPR and first aid training to earn a badge.
If your 12-year-old is interested in babysitting, they might need a little help to prepare. You can talk to them about what their primary responsibilities will be and what to do if there's an emergency.
You can also help your 12 year old work out their own schedule for babysitting.
For example, if they're involved in a lot of school activities, then babysitting in the after school hours might not work. They might need to limit their work schedules to Friday night or Saturday night babysitting gigs.
2. Pet sitter or dog walker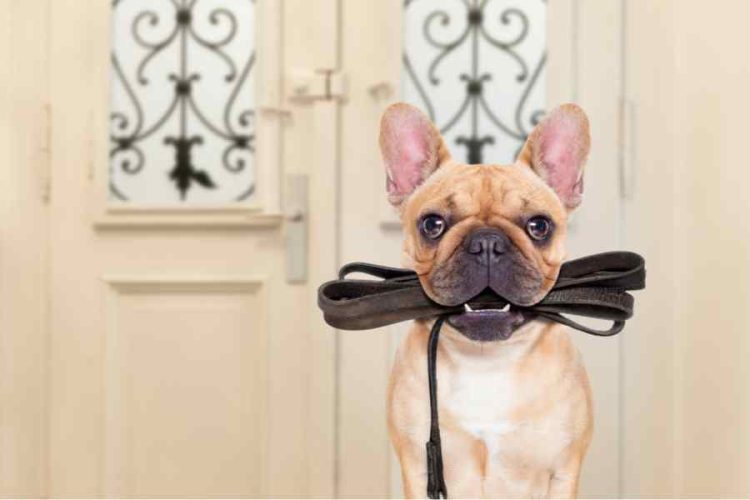 Pet sitting and dog walking are two of the best jobs for 12 years to make money if they love spending time with animals.
Kids can earn a little extra money by walking dogs for people in your neighborhood or taking care of pets while their owners are away. For example, you might have a family member who needs someone to watch their beloved pet poodle while they take a weekend trip.
Sitting for pets and walking dogs are easy ways for 12 year olds to make money and it can become a steady part-time job if they're able to build up a solid clientele.
In terms of earning potential, dog walkers can make anywhere from $15 to $45 per walk on average. Pet sitters can make $15 to $90 per day on average, depending on how much care they need to provide to pets.
3. Cutting grass
Mowing the yard is one of the best summer jobs for 12 year olds and it's something teens can do as well to make money on the side.
Your child will need some basic equipment to start a grass-cutting business, including:
A reliable lawn mower
Fuel and oil
Safety goggles
Work gloves
Safety earmuffs or headphones
A rake and trash bags if they're required to pick up clippings
Those are things you might already have at home in the garage. So this could be a good job for a 12 year old if you're looking for something that requires little to no money to get started.
4. Do other yard work
Aside from cutting grass, there are other types of yard or outdoor work that 12-year-olds can do to earn money. If your child loves spending time outdoors, they could make extra money with any of those jobs:
Gardening tasks (pulling weeds, planting, watering the plants, etc.)
Spreading mulch
Raking the leaves in the fall
Picking up branches or pinecones
Paintings fences or sheds
Trimming hedges
Washing windows
Weed eating
There may be some special equipment your child will need to get started. For example, they may need a weed eater or garden shears if you don't have those at home already. But doing yard work can be a great way for a 12 year old to make money while getting some fresh air and exercise.
5. Wrapping gifts
Offering gift wrapping services is another fun job for 12 year olds that pays real money.
The Christmas season can be a great time for kids to offer gift wrapping services. Friends, family members and neighbors may be willing to pay them to wrap gifts so they can spend time checking off the rest of the items on their holiday to-do list.
But kids can also wrap gifts for other special occasions and holidays throughout the year. They'll need wrapping paper of course, along with tape, scissors, tissue paper, ribbons or other decorative accessories to get started.
Pro tip: Stock up on seasonal wrapping paper in the post-holiday sales, when you might be able to get them up to 75% off.
6. Shovel snow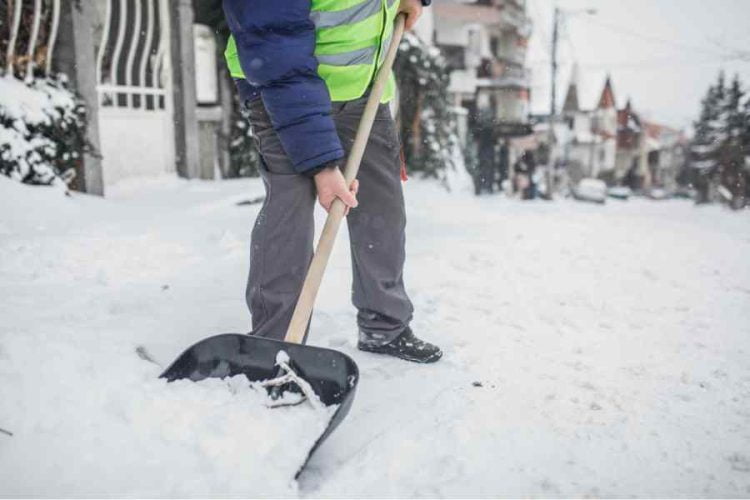 Shoveling snow and clearing sidewalks are great jobs for 12 year olds to make money if you live in an area that gets winter weather.
Kids will need a sturdy shovel, gloves and winter clothing to protect them from the cold. And of course, they'll need some good work ethic to brave the winter weather.
But overall, this can be a great way for 12 year old kids to make money when a snow day hits.
7. Pool cleaner
Helping neighbors keep their backyard pools clean is another way that a 12 year old girl or boy could make extra money.
Skimming pools is a relatively easy job that kids can do after school or on weekends. They'll need a skimmer pole to clean leaves and other debris off the surface of the water, but otherwise, there's no other special equipment required.
Keep in mind that it's a good idea for kids to know how to swim to do this type of job. If kids don't know how to swim, you may want to have them wear a life jacket while they're skimming pools as a safety precaution
---
Ready to get your budget together?
Grab our monthly budget worksheet, spending tracker and debt repayment tracker when you join the Savvy Money Lessons email list!
8. Do odd jobs around the house
One of the first ways kids often make money is by doing odd jobs or chores at home for money. For example, there are plenty of jobs for 6 year olds that they can do around the house to earn an income.
Some of the jobs 12 year olds can do for money at home include:
Dusting furniture, walls and baseboards
Deep cleaning bathrooms
Emptying out vacuum cleaners and cleaning them
Helping to declutter and reorganize the garage or attic
Taking out the garbage and washing the garbage cans once a week
Washing windows
Sweeping decks and sidewalks
Helping with yard work
Sorting recycling
The types of at-home jobs your 12 year old can do will depend on what's on your regular household chore list. But any of these ideas can be a great place to start to help kids make a little money.
9. Lemonade stand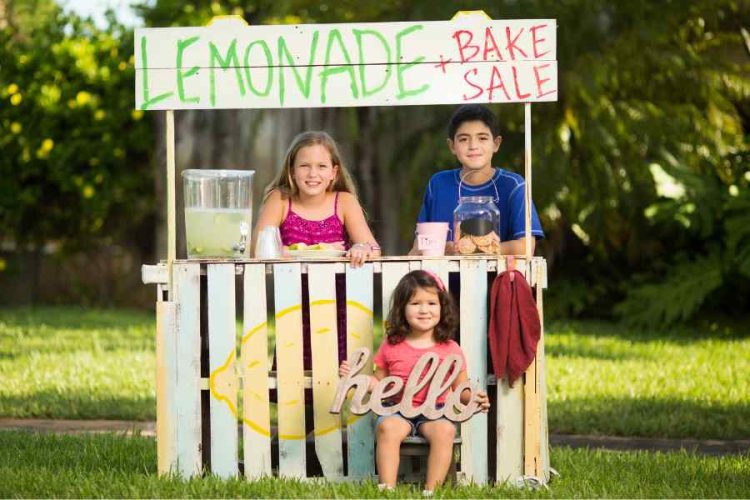 A lemonade stand is an old-school way to make money. But it still earns a spot on the list of jobs for 12 year olds that pay since it's a tried and true way to create income.
If your tween wants to set up a lemonade stand, it's important to know the rules. For example, if your neighborhood has an HOA, your child might not be able to set up shop on the sidewalk or in your driveway.
If you're able to get the green light, then you'll just need to help your 12 year old get their supplies together. Here's what you'll need to start a lemonade stand business
Lemons, sugar, water and any other ingredients you'll use to make your lemonade
Coolers or other containers to hold the lemonade
Cups
Ice
A table to keep everything on
A sturdy cash box to hold the money they're earning
They'll also need a sign to advertise their business. You could make a sign together by hand or get one professionally made at a local print shop if you have the budget for it.
10. Tutoring
Got a kid who makes good grades? They could turn their smarts and study skills into income by tutoring other kids.
Your child can host tutoring sessions at your home or the local library on school days or weekends. They can tutor classmates or kids in lower grades in one or two subjects or all of them, depending on what they feel most comfortable with.
Tutoring other kids requires discipline since it might be tempting to goof off a little. But if they're able to stay on task, they could charge $25 an hour or more for their tutoring services.
And tutoring doesn't have to be boring either. For example, there are plenty of educational board games that your 12 year old could use to help reinforce what they're teaching.
11. Give music lessons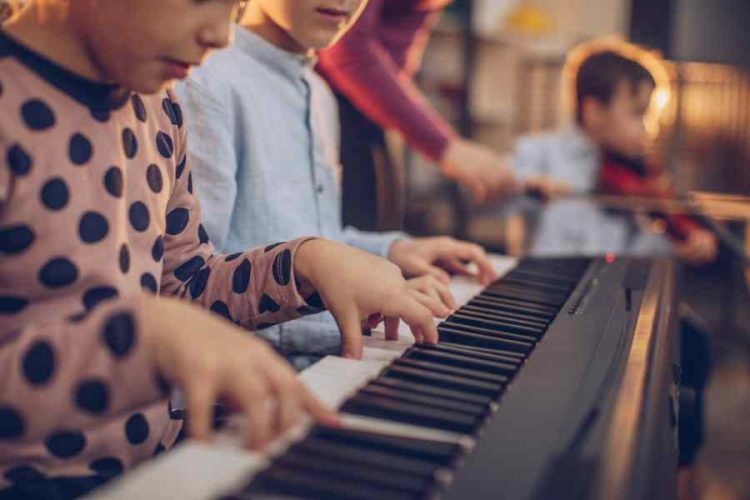 Teaching music lessons is another great option when looking for jobs for 12 year olds that pay if your kid has some musical talent.
They might be able to help classmates or younger kids fine-tune their skills on the guitar or piano, for example. The more musical instruments they play, the more opportunities they might have to teach music lessons.
Teaching music can be a profitable side job for a 12 year old, depending on what the going rate is for your area. For example, my son plays guitar and it's not uncommon to pay $25 to $50 per lesson in our area.
12. Neighborhood helper
Being a neighborhood helper can mean doing a little bit of everything to make money on the side.
For example, if you have a lot of elderly people in your neighborhood they might be willing to pay your 12 year old to help out with things like bringing in and putting away groceries, picking up the mail, taking out the trash or watering the lawn.
Your child could also get paid to do delivery work. For example, if one neighbor needs to drop something off at another neighbor's house but doesn't have time to do it themselves they could pay your 12 year old to make the delivery.
This kind of job is great for a 12 year old since it doesn't require them to stray far from their front door. Of course, you might only feel comfortable having them do this if you know your neighbors fairly well and your child knows their way around the neighborhood.
13. Car washing
A 12 year old could make money as a car washer during the summer months. You could have them wash your own car for practice, then help them advertise their services among the neighbors, friends and other family members.
They'll need the basics to start a car washing service:
Washing cars can take some elbow grease and the larger the motor vehicle, the more work that might be involved. But this particular job can help kids make $50 to $60 or more per wash, so it can be a lucrative way to earn money.
14. Sell things they don't need
If your child has stuff piled up around the house that they're not using, they could sell it for quick cash.
Setting up a yard sale or garage sale is an easy way to unload their stuff and earn a little money. They can also learn some organizational and financial skills as they sort through the items they want to sell and decide how to price them.
If they don't have enough stuff to sell at a yard sale, they could try selling it to a local store that buys used items.
For example, my 15-year-old daughter recently made $220 selling some of her old manga and Funko pops to our local comic book store. She got to clear out the junk in her closet and pocket a little cash at the same time.
15. Recycle soda cans or bottles
Recycling soda cans or bottles is one of the easiest jobs for 12 year olds that pays real money without requiring a lot of effort.
If you live in a bottle bill state, your child can collect aluminum cans and sell them for money. There are plenty of buyers that will pay a decent price for scrap metal.
You can search for a scrap metal recycling center near you to see who pays cash for cans in your area.
16. Start a YouTube channel
Nearly 3 billion people use YouTube. If your 12 year old spends a lot of time there, you might encourage them to start their own YouTube channel.
If their channel takes off, they could monetize their channel and earn money for making videos. They could also stream on other online platforms like Twitch if their channel is all about gaming.
Keep in mind that YouTube can be competitive and it can take time to build an audience.
Posting new content consistently can be a great way to get new subscribers and keep them coming back. Your child can promote their content on social media as well if they're on TikTok or Instagram.
17. Start a home baking business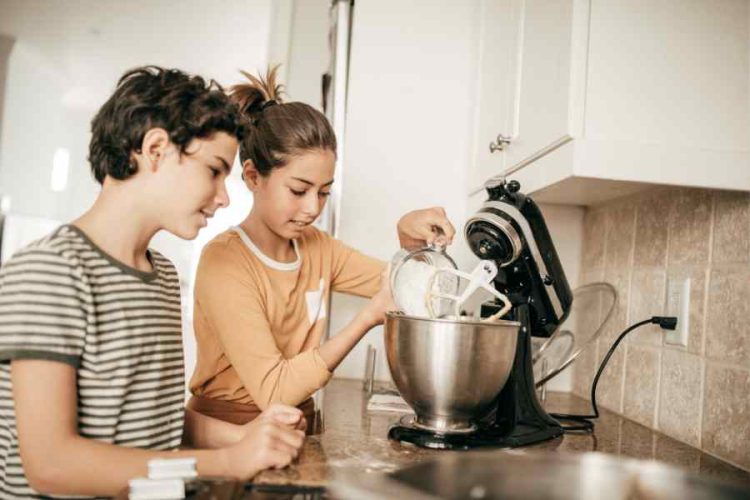 Does your child love to bake bread, cakes, muffins or other sweet treats?
If so, starting a home baking business could be one of the best jobs for 12 year olds to make money.
They'll need the basic equipment and supplies to get started:
Mixing bowls, spoons and spatulas
Baking ingredients
Packaging to put your baked goods in
Aside from packaging, you might have all of that at home already. So it's just a short jump to help your child start their own baking business.
You could sell your baked goodies at local farmer's markets or craft fairs. Just be aware of any legal rules for home kitchens that might apply in your state or area.
18. Start a dog treat business
Gourmet dog treats can be big business and your 12 year old might like this job if they enjoy baking and love doggos.
You might need to help them round up special baking supplies, like dog-bone shaped molds and dog-friendly baking flour. But once you get everything together, you can help them get to work baking treats for their four-legged friends.
19. Make and sell crafts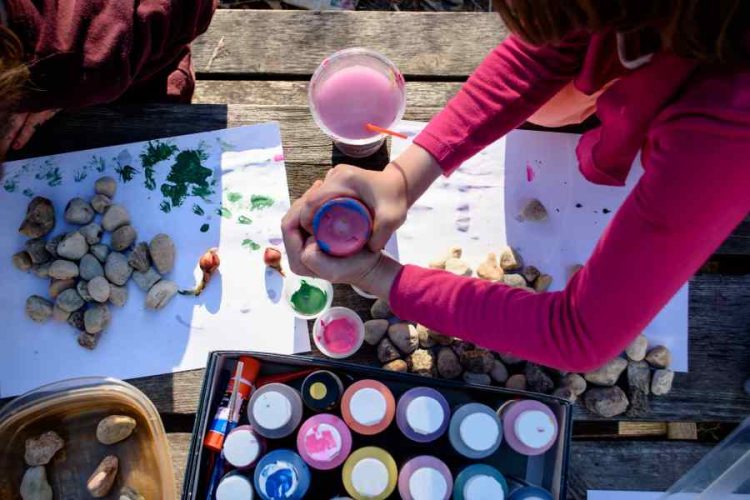 If your kid has a crafty side, they could make things to sell for cash.
Some of the best things kids can make and sell include:
Bath bombs
Candles
Soap
Bookmarks
Bracelets
Holiday decorations
Original artwork
Wood crafts
Kids can sell things locally at farmer's markets or craft fairs. Or you might help them set up an online shop.
Keep in mind that if you want to get them started on a platform like Etsy, they'll need to be at least 13 for that. And you'll need to be listed as the official shop owner if you're helping a teenager start an Etsy store.
20. Start a blog
Blogging is something a 12 year old might be interested in if they like writing or they're creative.
There are lots of ways to make money with a blog, including:
Writing sponsored blog posts
Affiliate marketing
Running ads
Selling services
Selling digital or physical products
A 12 year old could start a blog with a parent's help. If your child is interested in blogging as a job, you can get them started with hosting through Siteground. Their plans are reasonably priced, which is great for beginners.
When it comes to what kind of blog to start, it helps to pick something your child is interested in since they're going to be writing a lot of blog posts on that topic.
For example, if they're into k-pop, then they might start a k-pop blog. Or if they love animals, they might start a pet blog.
21. Work in the family business
If you own a family business, you could have your 12 year old work for you to make extra money. The kind of work they do will depend on the type of business you run.
For example, if you run a retail store then they might be able to help with stocking shelves or cleaning. Or if you run an online shop, then they could help you pack orders and get them ready to ship.
Working in a family business can be a good way for kids to learn customer service skills. They can also learn some of the behind the scenes stuff that goes into running a business, like managing inventory or balancing the books.
22. Sell their skills
If your 12 year old has gone through the list but nothing's jumping out at them, there's one more way they could make money: Selling their skills.
For example, maybe they're really great at graphic design and they know the ins and outs of a tool like Canva or Photoshop. They could teach that skill to someone in your family or friend circle who wants to learn it.
Or maybe they're a whiz at fixing computers or programming phones. They could hire themselves out as an unofficial geek squad member to people who need a little tech help.
Selling skills and knowledge can be a fun way for a 12 year old to make money while doing something they love. And it's a chance to share what they know with others.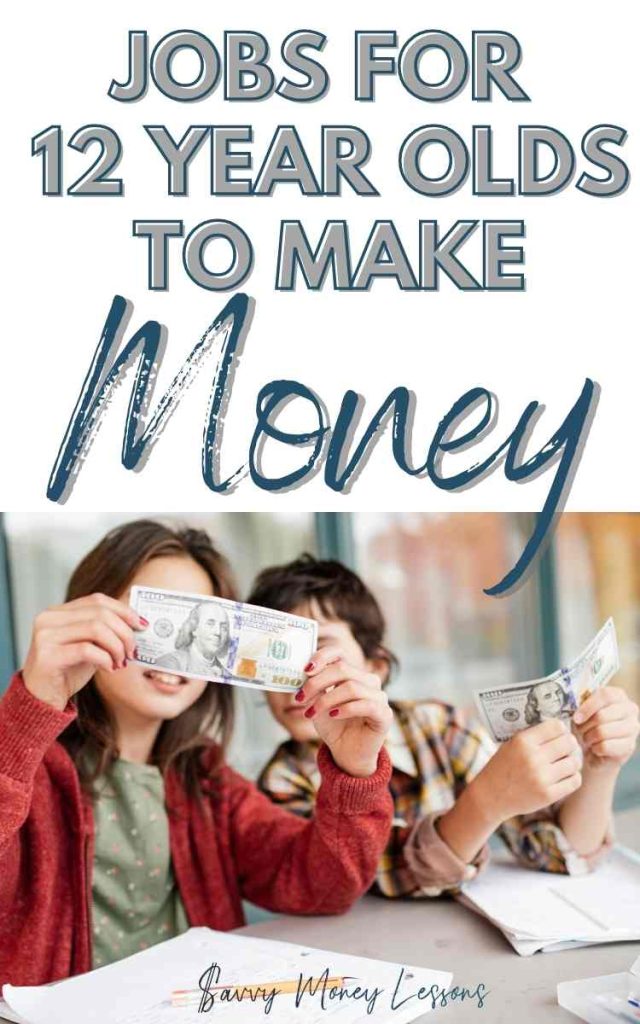 Jobs for 12 Year Olds to Make Money FAQs
How can a 12 year old make money?
A 12 year old can make money in several different ways, including walking dogs, selling things they don't need or helping out with chores at home. Kids can also make money by starting their own business or side hustle. For example, they might start a YouTube channel and create content around video games or bake and sell homemade sweet treats.
Can a 12 year old get an actual job?
Child labor laws set age limits on when kids can get a job. Unless they're working in a family business, kids generally need to be 14 or older to get hired for traditional jobs, including fast food jobs, grocery store jobs or jobs at amusement parks. Once kids are old enough to get a regular job, they might need to have a work permit or written permission from their parents, depending on what state law requires.
How can kids make $50?
If kids need to make a quick $50 they could try selling things they don't need for cash, doing extra chores at home or offering to handle small jobs for neighbors. Other ways kids can make $50 or more include washing cars, doing yard work, cutting grass and pet sitting for a day or two.
What is the easiest job for a 12 year old?
Some of the easiest jobs for 12 year olds that pay include babysitting, dog walking and doing chores around the house. The first thing to consider with any job for a 12 year old is how much time it requires, since you don't want working to interfere with school. Other important points to consider include how much money they could earn, what kind of skills they'll need and whether there are any safety concerns to know about.
Are there any online jobs for 12 year olds?
A 12 year old could make money online by starting a YouTube channel, setting up a blog or launching an online shop. Those are all things that may require a parent's help but they could be great options for making money as a 12 year old if you've got a computer and a good internet connection.
Recommended Kids Business Books
Do you have a budding entrepreneur? Your child may come up with their own idea of how they can make money. These books can help them grow their own business and launch their entrepreneurship journey!
Final thoughts on the best jobs for 12 year olds to make money
There are lots of jobs for 12 year olds that pay and it's important to help them find the right one. The job your child will be able to do will depend on their maturity levels and how disciplined they are but it's also important to consider their skills.
For instance, if they enjoy school and get good grades, tutoring may be a good fit. If they're good at playing a musical instrument, then teaching music lessons may be an obvious choice. Remember, the more things they try the better their chances of ending up with a job they like doing that pays them well.
Need more money tips? Read these posts next:
What are your favorite jobs for 12 year olds to make money?
About the Author
Rebecca is a certified educator in personal finance (CEPF) and a money-saving expert. As a single mom of two teens, she knows all about the importance of family budgeting and financial goal-setting. She shares her best tips about saving and managing money at Savvy Money Lessons. You can also read her work online at Bankrate, Forbes Advisor, Investopedia and other top publications. Learn more