How to Make Money Doing Odd Jobs
This post may contain affiliate links, which means I may earn a small commission if you click and make a purchase. You can read our full disclosure policy here.
Last Updated on May 25, 2022 by
Odd jobs can be a quick and handy way to make some extra money if you need a little more cash coming in. You can do odd jobs on your spare time so that they do not take away from your normal job hours. You can also work odd jobs when you want, so if you have a crazy schedule that you need to work around, you can do the odd jobs when you have time.
Odd jobs can be a short-term solution with a few having the opportunity to turn into long term solutions. If you are looking for some simple odd jobs that you can do to make some extra cash, here are a few ideas.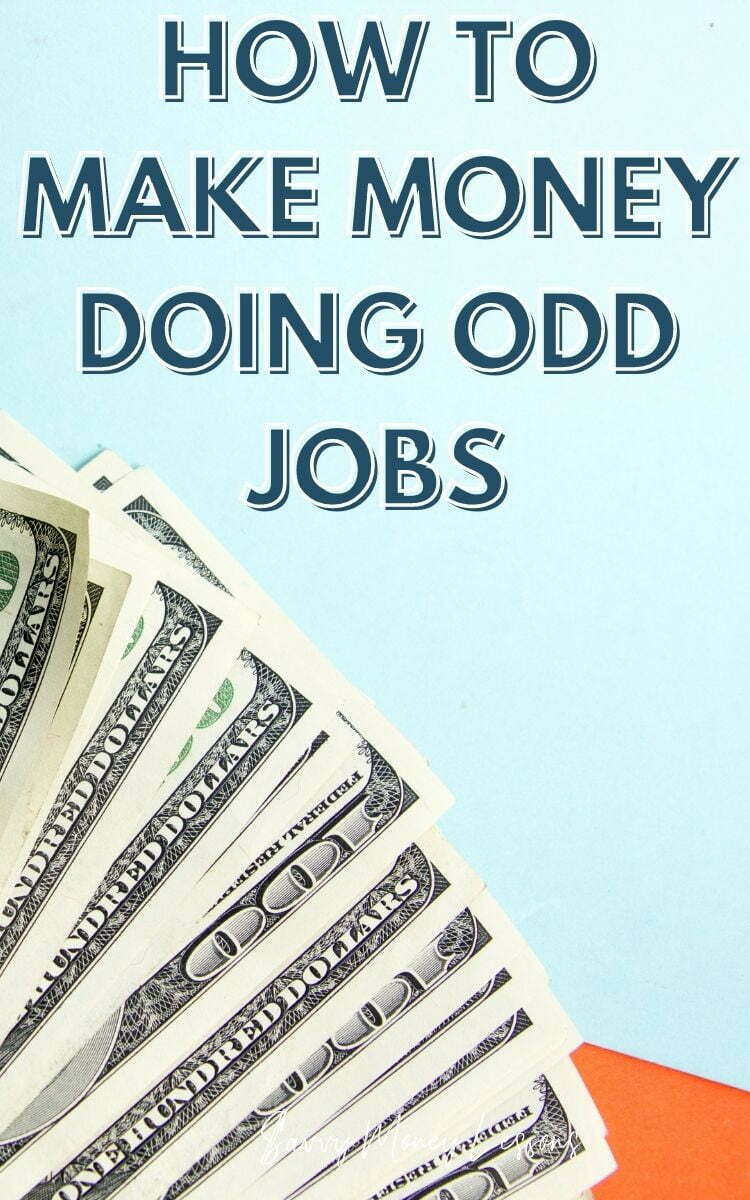 Food Delivery Driver
Businesses like Door Dash, Uber Eats, and Grubhub allow you to deliver food for extra cash. With these delivery jobs, you pick up orders at local restaurants and delivery them to the customers. In addition to getting paid for each delivery you do; you also have the opportunity to earn tips for each delivery.
Many people make quite a bit of money delivering food and with most, you can simply "check in" once you are ready to start delivering. There is no set schedule that you have to work, and you can typically do these delivery jobs at random hours throughout the day or in between classes.
Recommended Odd Jobs Books
If you think you're the only one trying to take the odds to make money, these inspiring books will give you great ideas on how to handle life through odd jobs.
The Odd-Job Man (The Duty and Destiny Series, Book 7)
Odd Jobs: How to Have Fun and Make Money in a Bad Economy
Odd Jobs: Essays and Criticism
Handyman Services
If you are handy and know how can fix things around the house, adding handyman service to your list of odd jobs may be perfect for you. Customers use a handyman service to fix odds and ends around the house because they don't have the time, know-how, or tools to do the work.
Lawn Service
During the summer, many people pick up mowing or landscaping as an odd job. The only problem with this odd job is that the market may be a little oversaturated making it harder to find the extra work. It's definitely still worth a shot, especially if you already have everything you need to be able to get the job done.
In addition to the landscaping and mowing, hauling away old brush or trimming trees may also be an option so you can offer that as a service as well.
Tutoring
Online tutoring jobs have really blown up over the last few years and there are a lot of opportunities that you can take advantage of. This is also a great opportunity for teachers, since they can work around their schedules or take on tutoring during the summer break.
Tutoring jobs are often available for all subjects, though you will find that most of them include math and English. The most popular tutoring jobs are offered online so you can work your own set hours. Just remember that some clients may be in other time zones so your tutoring times may vary.
Dog Walker/Pet Sitter
Summer is one of the most active times of the year for dog walkers or pet sitters. Many families take summer vacations and like to hire someone to look after their pets while they are away.
Tasks may include checking in the animals throughout the day, making sure they have food and water, and taking them on walks.
Babysitting
Both teenagers and adults can offer babysitting services to friends and family. Job times may vary because parents typically look for childcare while they are at work, after school, or in the evening when the parents need to go out. Check with friends or family and look on Facebook to see if anyone in your area needs a babysitter.
Recommended Savings and Budget Trackers
It is important to track your savings and manage your budget if you want to be financially stable. These savings and budget trackers can help you record what you earn and how you spend it.
My Savings Tracker: Life Savings Tracker Notebook | Jar Savings Tracker | Savings Tracker Journal For Women | 6×9 Inches
Your Budget Journal: Budget and Savings Journal with Inspirational Quotes
Life & Apples Budget Planner – Monthly Budgeting Book, Expense Tracker Journal, Finance Organizer and Accounts Book – 12 Months, Undated, A5, Black
Savings Tracker: Savings Tracker Notebook Journal – 120 Savings Tracker Sheets – Savings Tracker Planner – Savings Goal Tracker – Blue and White
Kakeibo Budget Planner: Beautiful and Practical Money Saving Journal | Handy and Easy to Fill Book Enough for a Year Tracking
Savings Tracker: Savings Account Register Book – Money and Savings Journal – Plan, Save, Succeed – 6 x 9 Inches – 120 Pages
Freelance Work
These days you can find a variety of different work that is often outsourced to freelancers. This could be anything from proofreading to web or logo design.
Freelance sites:
Amazon Mechanical Turk
Fiverr
Upwork
CrowdFlower
Odd jobs can be a great way to bring in some extra side income, especially when you have downtime on your hands. If none of the above really fit your style, think about the things you enjoy doing and see if there might be an opportunity for you to make money with it.
More Money Earning Ideas
Legitimate Ways to Earn Money From Home
15 Ways for Teens to Make Money
How to Make Money Without a Job for Teens
25 Ways to Make Money Online, Offline and at Home by Nerdwallet
About the Author
Rebecca is a certified educator in personal finance (CEPF) and a money-saving expert. As a single mom of two teens, she knows all about the importance of family budgeting and financial goal-setting. She shares her best tips about saving and managing money at Savvy Money Lessons. You can also read her work online at Bankrate, Forbes Advisor, Investopedia and other top publications. Learn more