How to Make Money Cutting Grass as a Kid [2023 Guide]
This post may contain affiliate links, which means I may earn a small commission if you click and make a purchase. You can read our full disclosure policy here.
Last Updated on April 11, 2023 by Rebecca
Interested in how to make money cutting grass as a kid?
Doing yard work can be a great way for kids and teens to make extra money. While it's not an easy job, mowing lawns is a popular way to make extra during, especially during the summer months.
Along with babysitting, cutting grass can be one of the best side hustle ideas for kids and teens. If you're interested in how to make money cutting grass, these tips and tricks can help you create your own thriving mowing service business.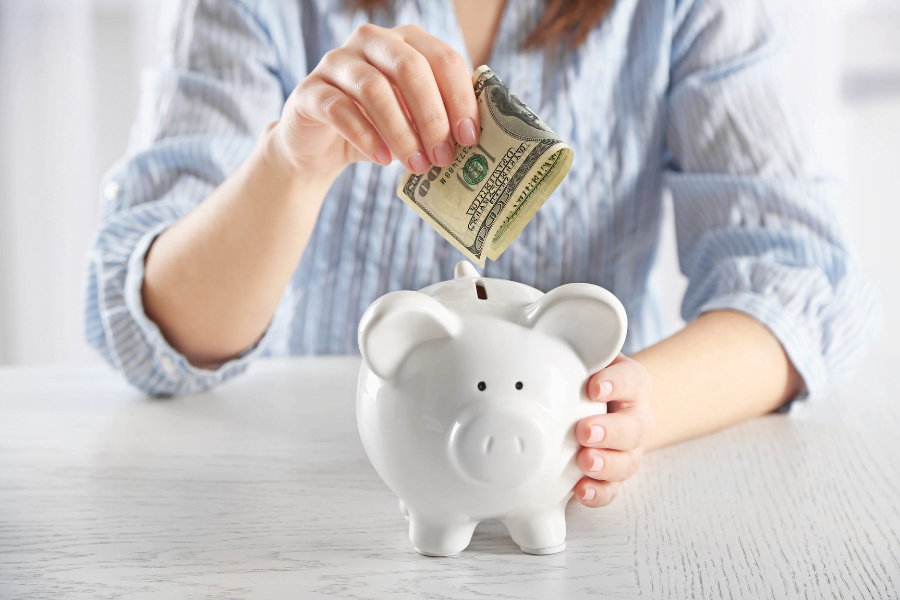 ---
How to Make Money Cutting Grass as a Kid
Figuring out how to start a lawn care business isn't that difficult. There are three basic steps:
Organize your lawn care supplies
Decide what to charge for your services
Find potential clients for your business
Here's how to make money cutting grass, step by step.
1. Organize your supplies
There are a few basic pieces of equipment you'll need to make money doing yard work.
You'll need:
A lawn mower (a push mower or riding mower will work)
Lawn bags, if you're bagging up leaves or mulch
You'll also need gas for the lawn mower and weed eater unless you're using a battery-powered trimmer.
Is a push mower or a riding mower better?
Push mowers may be easier to handle for younger teens or tweens. Riding mowers can be more convenient but you'll need to know how to drive one.
The size of the lawn also matters. A push mower might be fine for smaller yards but if you're trying to cut grass across multiple acres you'll likely need a good riding motor to get the job done.
2. Set your rates
Perhaps the most important step in how to make money cutting grass is deciding what to charge.
Setting a price for mowing yards can be dependent on a few different things. When you set your pricing, you will want to consider a few factors.
Your experience with cutting grass and doing yardwork
Your location and area you will be servicing (and how much people typically pay for lawn care)
Who you're going to be cutting grass for (i.e. businesses, private homes, people on fixed incomes, families, etc.)
The size of the property you'll be mowing and how long it'll take you to complete the job
How much you're hoping to earn
The cost of fuel, equipment, or supplies to get your yard work projects done
On average, professional lawn care providers charge anywhere from $50 to $250 for their services, according to Angi. Offering mowing services to businesses can often bring in more money. However, residential areas may be the best starting point if you're new to mowing lawns for money.
Cutting grass for neighbors or family members could also be a good way to get some testimonials and gain experience when you're just starting out. When setting your rates, you might decide to charge:
Per hour
Per square foot
Per yard
Per day (for large projects)
A good rule of thumb for setting rates in your grass-cutting business is to figure out how much you want to make per hour, then use that as a guide for deciding what to charge.
For example, if you want to make $50 an hour and a yard will take you three hours to cut, you'd charge $150.
Should you offer more than just cutting grass as a service?
If you'd like to branch out with your lawn care business, you could offer any of these services:
Raking leaves
Bagging leaves or mulch
Spreading mulch
Trimming hedges or small trees
Edging driveways or walkways
Hauling off brush or debris
If you decide to offer more than just mowing, think carefully about how to set prices for that work as well. Offering other services and letting your customers know about them, may bring you in extra work but you want to make sure you're getting paid for it appropriately.
3. Find clients
Finding clients can often be the hardest part of getting your lawn-mowing business off the ground.
The simplest way to start building a steady clientele is to ask friends and family if they'd like to use your services. You can also ask them to refer you to people they know who might need lawn care.
Even with social media dominating how companies market themselves, word of mouth is still one of the best ways to advertise. If you can get one or two referrals and do a good job cutting their grass, that could open the door to more opportunities to get paid for cutting grass.
Here are a few other ways to advertise your lawn-cutting business:
Post about your services in local Facebook community groups or bargain groups
Purchase business cards and hand them out everywhere you go
If you have your own car, put a sign on the side or purchase a vinyl decal to put on the back window to advertise
Put up flyers on public bulletin boards at your church, school or at local small businesses (if they allow it)
Taking out ads in the local newspaper
The more you advertise, the more opportunities you have to find clients for your grass-cutting business or side hustle.
Recommended Life Skills Books for Teens
If you want your kids to be ready for the future, these books will be a great help for them to acquire some important life skills and prepare for a life of independence.
Final thoughts on how to make money cutting grass as a kid
Starting your own lawn mowing business can become a great summer job or can even bring in some extra income on the weekends in your spare time. It's also a great way to learn how to manage your money responsibly. The skills you learn running a yard work business can benefit you later if you want to become a full-time entrepreneur.
Need more money ideas for kids? Read these posts next:
Do you have any tips on how to make money cutting grass as a kid?
About the Author
Rebecca is a certified educator in personal finance (CEPF) and a money-saving expert. As a single mom of two teens, she knows all about the importance of family budgeting and financial goal-setting. She shares her best tips about saving and managing money at Savvy Money Lessons. You can also read her work online at Bankrate, Forbes Advisor, Investopedia and other top publications. Learn more