Gardening Tips to Save Money
This post may contain affiliate links, which means I may earn a small commission if you click and make a purchase. You can read our full disclosure policy here.
Last Updated on May 23, 2022 by
A garden can be a great way to save money. Unfortunately, if you're not careful, you could end up wasting money. The good news is you can save money. Whether it's the plants you choose or the amount of produce you get from your garden, you can use your garden to save big on fruits and vegetables.
You'll love these gardening tips to save money and a big plus is that you get to grow your own healthy food and have fun doing it with the kids too.
It's time to use your garden in a positive way and save money while doing so. It's easier than you think to use your garden to save money.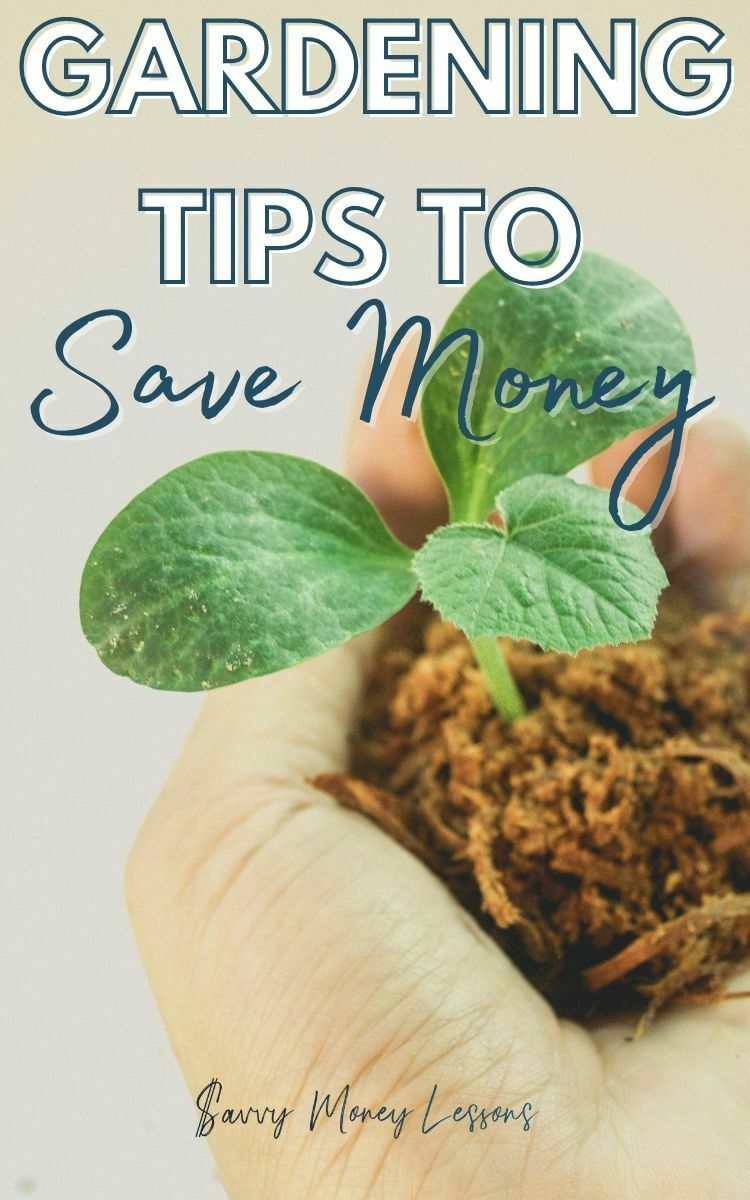 Gardening Tips to Save Money
While it's true that your garden is a great way to plant food and grow your own foods for your family, there are many benefits when it comes to saving money as well. The following are just a few reasons that your garden can put more money back in your pocket.
Choose High Yield Produce
First things first. You want to choose produce that has the highest yield. For example, zucchini, tomatoes, and watermelon are all high-yield produce that will give you much more than you can eat. This means you'll have extra to can or freeze for use in the winter. If you only have a small area to garden in, it only makes sense to choose these types of produce.
Start with Seeds
Once you determine the produce you want to grow, get good quality seeds to start your garden. Seeds are much less expensive than plants. You can also find a much bigger variety of seeds than plants. It's also much easier to order seeds online. Another great tip when it comes to seeds is to save seeds for next from your own produce so that you don't have to buy more seeds.
Feed the Plants
Your plants need food in order to thrive. Choose a good quality plant food or a natural fertilizer. If you're planting in a garden box or patio pots, you can use a dirt that also has plant food in it. Some brands even have food that will feed your plants for three months.
Recommended Gardening Books
Are you a first time gardener? Check out these books about gardening that can help beginners like you to grow healthy crops.
The following books are great for learning all about gardening. No matter if you're looking to start a garden or want to increase your knowledge about gardening, these are the books for you!
All of these books will give great advice and steps on how to start and prepare a garden. There are so many other great books about gardening as well so check out more options.
The Complete Gardener's Guide: The One-Stop Guide to Plan, Sow, Plant, and Grow Your Garden
Companion Planting for Beginners: Pair Your Plants for a Bountiful, Chemical-Free Vegetable Garden
Greenhouse Gardening: The Ultimate Step-by-Step Gardener's Manual for Beginners to Grow Healthy Vegetables, Herbs, and Fruits All-Year-Round and Learn
Raised Bed Gardening for Starters: The Ultimate Guide to Successfully Building Your Own Healthy and Productive Garden in Just 3 Days
Container Gardening For Beginners: A Guide to Growing Your Own Vegetables, Fruits, Herbs, and Edible Flowers
Beginner Gardening Step by Step: A Visual Guide to Yard and Garden Basics
Protect the Plants
The last thing you want is for the plants you've worked so hard to grow to get destroyed. Unfortunately, small mammals, birds, and even cats are more than happy to tear your garden apart for food or entertainment. You can purchase fake snakes and owls that will help deter pests. You can also put a fence around your garden. Another tip is to spray your plants with a mixture of chopped jalapenos and water.
Water in the Mornings
Last, but not least, you want to water your plants in the morning for two reasons. First of all, if you water your plants late in the day, you risk your plants literally cooking from the hot sun. Another reason is the water will never reach the roots if you water while the sun is directly over the plants. When you water in the morning, the temperature is cooler and the water can fully saturate the dirt.
Produce can be expensive. That's why it only makes sense to have a garden. Not only can you save money in the summer, but you'll also have frozen or canned fruits and vegetables for winter. However, you'll only save money if you use these tips to help your garden be more successful.
More Money Saving Tips
Now that you're on the money-saving mind, there are so many other things to think about when it comes to cutting costs. It can be quite simple to save money when you're really in that mindframe. Below are some other ways that you can save money.
How to Save Money While Traveling
Traveling doesn't have to blow your budget. You can easily take a vacation, plan a trip, or travel around to different locations without spending a ton of money. These simple tips prove that travel doesn't have to spend all your money.
8 Ways to Save Money on Groceries
The prices at the grocery store are scary high right now but there are ways that you can cut the cost. If you're wanting to stick to your weekly budget, these tips can help. You can even afford healthy foods for your family with these tips!
Best Ways to Save Money Right Now
Now is the time to start saving money. Why wait and spend more money when you don't have to? These money saving tips prove that you can always find a way to cut costs in your life!
How to Save Money: 22 Simple Tips by Ramsey Solutions
You'll love these simple saving tips! You can start implementing them in your life right now! It's time to save some bucks easily with these simple steps!
About the Author
Rebecca is a certified educator in personal finance (CEPF) and a money-saving expert. As a single mom of two teens, she knows all about the importance of family budgeting and financial goal-setting. She shares her best tips about saving and managing money at Savvy Money Lessons. You can also read her work online at Bankrate, Forbes Advisor, Investopedia and other top publications. Learn more